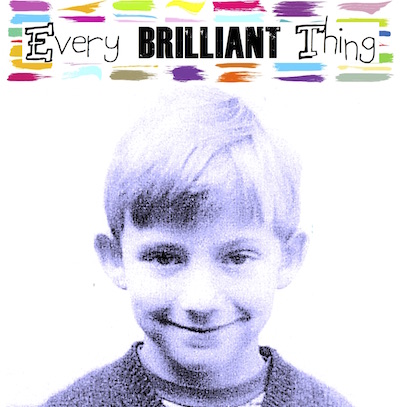 Date/Time
Friday 4 November 2022
7:30 pm
Categories Performances, shows, and events
Book here now: £14 full price, £10 or £7 if you prefer: you choose, pay what you can*
Philip has performed two shows here at the Arts Centre: Krapp's Last Tape and All Is Mended. Both were brilliant, and this looks like being every bit as good. We don't get that much theatre here yet (we're working on it), but whenever we do, it's really worth seeing. Do give this a try.
Every Brilliant Thing is a play written by Duncan Mcmillan and Jonny Donahoe, performed by Philip Robinson and directed by Polly Whitfield
I was a 7 year old boy when my Mum tried to take her own life. So I made a list for her, of everything worth living for. This is my life story, come and be a part of it.
CONTENT / TRIGGER WARNING: the play contains descriptions of depression and suicide,
and briefly describes a character's death by suicide including the specific means that were used.
The following taken from reviews of other productions of this play:
"The old critical cliche – You'll laugh, you'll cry – very much applies. But mostly you'll laugh." Los Angeles Times
"One of the funniest plays you'll ever see about depression – and possibly one of the funniest plays you'll ever see, full stop." Guardian
"A really beautiful, kind and lovable little show that has buoyed me, amused me, warmed me and challenged me."  Chicago Tribune
"This beautiful show is a powerful affirmation of humanity and human kindness, at a time when it often seems in short supply."  The Scotsman
"It's a show that highlights the irrepressible resilience of the human spirit and the capacity to find delight in the everyday."  Time Out
* See Access, Tickets & Finding Us for more about why there are three ticket prices, plus other useful info about coming to events at Ashburton Arts Centre.