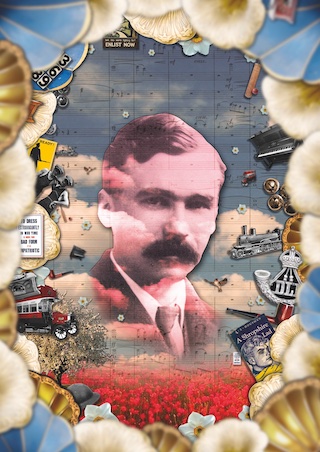 Date/Time
Thursday 17 August 2023
7:30 pm - 10:00 pm
Categories Classical
Newsflash: Tuesday 15 August: Our normal online ticket seller, WeGotTickets is down – if you want to book anything, please email boxoffice@ashburtonarts.org.uk and let us know the show, and how many tickets you need and they'll be reserved for you. If emailing is impossible, call ‭01364 652781‬ and leave a message with your name and number and we'll call you back on Wednesday.
 £15 full price • £10 or £7 if you prefer – please pay what you can*
George Butterworth was a musical master in the making to many, a brave leader to others, a cypher to some and a tender friend to a few. Throughout his life, he appears to have been torn between his inner desires, and his outward projection of seamlessly fitting into Edwardian morality, which was not an easy feat for the time.
This performance uses his complete 'A Shropshire Lad and Other Songs' song cycle, which sets A. E. Housman's sexually and powerfully charged poetry to music for Piano and Baritone. There's also other selections of Butterworth's symphonic masterpieces and folk songs arranged for piano, coupled with memories and comments by those that knew him form this production.
This semi-staged dramatisation explores the context of the relatively short life of this seminal, early 20th century composer as well as of the demons that pursued Butterworth and the elegiac love for fellow man that consumed him. The fully staged work was created in August 2016 to commemorate the centenary of Butterworth's death in WWI at the Somme and to celebrate the context of why he chose to do what he did with the time that he had.
Richard Court: Baritone/Actor
Mark Packwood: Accompanist/Actor
Duncan Macfarland: Director
More about Butterworth: en.wikipedia.org/wiki/George_Butterworth
* See Access, Tickets & Finding Us for more about why there are three ticket prices, plus other useful info about coming to events at Ashburton Arts Centre.