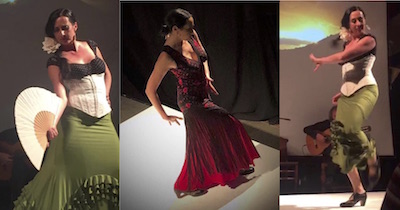 Date/Time
Saturday 31 July 2021
7:30 pm - 10:00 pm
Categories Dance
An exciting summers evening of flamenco comes to Ashburton! With the passionate dance, haunting song and rhythmic guitar of Southern Spain's famous flamenco, the evening will be filled with fire and emotion.
Dance from Karina Gracia, song and percussion from Jaime Cantera and guitar from David Nash. End of term dances from Karina's flamenco groups and hopefully a special guest too!
Karina Gracia
Karina Gracia's Spanish origin and passion for dance led her to flamenco, studying with reknowned teachers in Andalucía & Madrid including La Truco, Raquel Villegas, Lorena Franco, Felipe de Algeciras & Cecelia Gomez.
Karina dances with passion and grace, and has performed at many festivals and numerous venues in the South West and Midlands; highlights for Karina include lead dancer in New Devon Opera's tour of 'Carmen', performing at Glastonbury Festival and leading a dance project in India in 2013 on a dance scholarship.
A confident and inspiring dance professional, Karina also loves to teach and offers weekly classes & monthly workshops throughout the South West, runs dance clubs each week in primary schools and works in various other community settings including residential homes and specialist schools.
Jaime Cantera (Jimi Can)
Jaime (Singer, percussionist) is a Bristol-based Spanish multi-talented performer, he writes songs, plays guitar, percussion and more . Absorbing influences from different world music styles such as afro, latin, gypsy, reggae or pop. For the last few years has been developing his gift for the cante (flamenco song) delivering an authentic passionate and melismatic response to the letras (words) and music.
David Nash
Dave Nash is a Flamenco Guitarist based in Bristol, He has been playing Flamenco and Classical guitar for over 20 years, playing regularly in restuarants providing an authentic Spanish ambience as well as at parties, weddings and functions. He also works regularly with Flamenco dancers for shows and accompanying classes and teaches Flamenco Guitar,He also performs in a duo playing Gypsy Jazz/Flamenco Guitar.
He began studying Classical guitar aged 10 attaining grade 8 aged 16 before later turning his attentions to the study of Flamenco guitar. He has studied under virtuosos such as Manolo Franco, Jose Antonio Rodriguez and Jose Luis Balao in Spain, and Francisco Antonio Clinton and Tito Heredia in the UK.
Admission £13 or £10 or £6 – you choose the one that best fits your budget.
Doors and bar open at 7pm. Show starts at 7.30pm
Pandemic policies. This information will be updated as things change.
Update: April 2022
Face masks: In the Main Hall, on the ground floor, these are recommended at all times, but are optional. Anyone who sits upstairs in the balcony MUST wear a face mask – with NO exceptions (not even those who are exempt). This is to allow people who are clinically vulnerable to have a place to sit where seats are naturally separated, so: (a) to provide a place for people who want to be as distanced as possible from others, and with anyone nearby wearing a mask; (b) as virus particles when airborne are generally heavier than air, this helps to mitigate the risk of transmission from people sitting in the balcony to audience members below.
The windows and doors of the venue will be open, allowing fresh air to be constantly moving through. Although we have heating, this might mean that the ambient temperature is a little cooler than some might like, and audience members should dress accordingly.
Please, if you can, take a Lateral Flow test before coming to the Arts Centre, and if this is positive, don't come. These tests aim to pick up anyone who is infectious at the moment of testing, so please take the test as late as possible on the same day before coming to the Arts Centre. If you test positive, a refund or transfer of your ticket to another event can be arranged, if you let us know before the start of the event, by emailing boxoffice@ashburtonarts.org.uk.