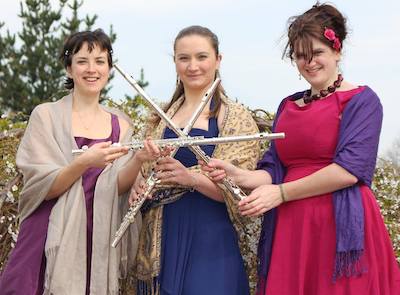 Date/Time
Saturday 1 July 2023
2:00 pm - 3:00 pm
Categories Classical
Book here now: £13 full price • £10 or £6 if you prefer – please pay what you can*
Arrangements and original works for flute, bass flute, alto flute and piccolo. Music includes Birds by Herman Beeftink and familiar favourites from stage and screen.
Flute Cake is a trio of flautists — Sophie Brewer, Jennifer Campbell and Ruth Molins — who perform on the whole flute family: piccolo, concert flute, alto flute and bass flute. Their repertoire includes around 200 unique arrangements by Jennifer of music from folk, films, jazz, pop and classical idioms; as well as original works by composer old and new, including work commissioned for them such as Ancient Rites by Andrew M Wilson and Butterfly Tunes by Sam Richards. They have a wealth of performing experience at venues such as Budleigh Classical Music Festival; the Creative Innovation Centre in Taunton; Bampton Fair; many weddings; regular nursing home performances; Exeter Respect Festival; Exeter Food Festival; a performance of 'The Night of the Storm and the Rain' by Sam Richards on a cliff top at Hallsands with a grand piano; Classical Café in Kentisbeare; and many more. Bringing joy to audiences, listeners often express delight at how Flute Cake can recreate the sound of an entire orchestra.
Sophie Brewer has led a musical life since childhood, being involved in award winning ensembles, receiving music scholarships for specialist music schools and performing in small and large scale concerts across the globe. Sophie studied music at Exeter University, and continues to study flute with Judith Hall, achieving distinction in her LTCL diploma. She performs locally in a variety of groups including the flute trio Flute Cake, the piano duo PianoFlaute and is principal flute for Exeter Symphony Orchestra.  She also performs in a variety of freelance orchestras and pit bands across the South West. When not performing Sophie works as a Business Operations Manager and offers freelance Business Support services across all industries, although with a keen interest in the arts and charity sector.
Jennifer Campbell is Flute Cake's arranger-in-residence! When not performing she works as an instrument repairer for Devon & Torbay Music Education Hubs, fixing everything from flutes to double basses. Jen also plays the clarinet, sax and oboe, and is often found lurking in orchestra pits in theatres across the South West.
Ruth Molins is a founding member of Flute Cake, Marsyas Quartet, Zephyr Duo, Volo Trio and part of the collective A Quiet Night In. Devon-born, she believes in the value of high quality, professional music within the local community. She performed as a soloist with Exeter Symphony Orchestra in 2012 (Rutter, Suite Antique) and again in 2015 (Mozart, Concerto for Flute and Harp). She has been featured on Phonic FM, Soundart Radio, BBC Radio Devon and BBC Radio 3. In 2019 she curated and performed the Flute@37 concerts, a series of intimate performances given from her own music studio. During the 2020 lockdown, she gave live-streamed performances of Les Chants de Nectaire by Charles Koechlin, connecting weekly with listeners world-wide. In 2017 her composition, Make Room was performed at Waterstones, The Glorious Art House and Studio 36 in Exeter. Ruth teaches flute at Exeter School and privately. In 2021, Ruth was invited by Pearl flutes artist, Elizabeth Walker, to record a performance video with practice tips, as part of the Furstenau Challenge project.
See their Website: FluteCake
* See Access, Tickets & Finding Us for more about why there are three ticket prices, plus other useful info about coming to events at Ashburton Arts Centre.