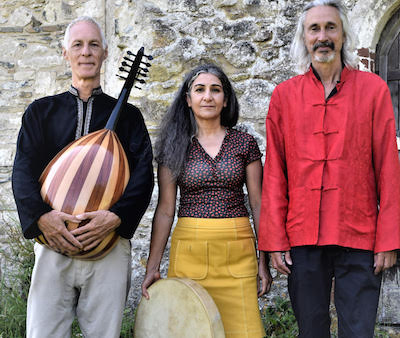 Date/Time
Saturday 9 April 2022
7:30 pm - 9:30 pm
Categories Music
Book here now: £12 full price • £9 or £6 if you prefer (please pay what you can)
Samar Zeki appeared at one of the Community Cabaret mics at the Arts Centre at the Tinners Moon Festival, and held the audience absolutely spellbound with her unaccompanied Arabic song. It's a delight to have her back with some fabulous musicians.
Tonight's programme is a fusion of poetry and storytelling interwoven with live Middle Eastern music. The mystical poems of Rumi and Hafiz are contrasted with the often humorous but equally Sufi inspired stories of Mullah Nasruddin ( Hodja ) and are performed alongside a wealth of Arabic songs expressing divine and earthly love and intricate melodies played on a range of traditional instruments."
Russell Harris has been involved with performance of middle eastern music since the mid 80's. He had studied music with teachers in Turkey and other middle eastern countries. Russell has performed extensively in the UK with many groups.
Samar Zeki is originally from Iraq. She has sung Arabic music since childhood and is particularly interested in the old form of singing Andalusian music and traditional Iraqi songs.
Mark Bedford has been a professional performer for over 20 years. He has performed in the UK and internationally specialising in storytelling and speaking poetry."
More about the ensemble here including some of the music.