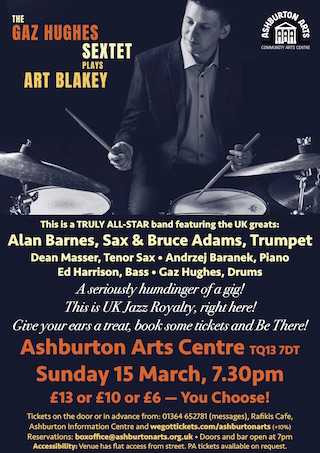 Date/Time
Sunday 15 March 2020
7:30 pm - 10:00 pm
Categories Jazz
This gig is definitely happening this evening, after extensive consultation with all concerned. If you are 'high risk' in relation to the Covid-19 corona virus, then I recommend that you do not attend, as I will not be. The volunteers who are running the event will take as much care as possible to make sure that surfaces are cleaned frequently, etc to minimise the risk of spreading infection.
This is a unique chance to see some of the really finest jazz musicians in the UK – or frankly anywhere! It's led by drummer Gaz Hughes and features saxophonist (and dry wit) Alan Barnes, and Bruce Adams on trumpet. They're playing some of the great Blue Note jazz from Art Blakey's Jazz Messengers.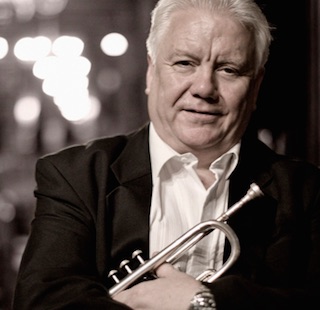 BRUCE ADAMS (Trumpet and Flugelhorn): Not only is Bruce one the jazz scene's most dramatic and stimulating performers, he is also a tremendously affable companion. A band-room with the Glaswegian Mr. Adams present is a happy and riotous place. His stream of jokes, anecdotes, and hilarious observations reflect an early immersion in show-biz, and a keen eye and ear for the many quirks of human nature.
His stories are populated by a sort of Scottish-Runyonesque cast of characters, some of them long-gone pals of his father and uncle, who were both professional musicians. However, on stage, Bruce Adams takes the playing side of things very seriously.
And he cut his musical teeth on solid commercial work – on cruise liners, in dance halls, music halls, and even worked in support of comedy legends like, Tony Hancock and Freddie Starr. He has been a regular jazz poll-winner and with his spectacular range and power on the instrument has been in demand as a lead, and jazz trumpet man.
Bruce has often worked as a special guest soloist with both the Scottish Radio Orchestra and the BBC Big Band. Bruce's long-running musical partnership with saxophonist Alan Barnes has produced many plaudits and acclaimed recordings.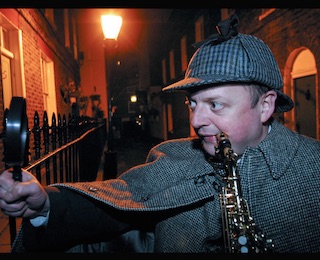 ALAN BARNES is a prolific international performer, composer, arranger, bandleader and touring soloist.  He is best known for his work on clarinet, alto and baritone sax, where he combines a formidable virtuosity with a musical expression and collaborative spirit that have few peers. His range and brilliance have made him a "first call" for studio and live work since his precocious arrival on the scene more than thirty years ago.
His recorded catalogue is immense.  He has made over thirty albums as leader and co-leader alone, and the list of his session and side-man work includes Bjork, Bryan Ferry, Michel LeGrande, Clare Teale, Westlife, Jools Holland and Jamie Cullum. He has toured and played residencies with such diverse and demanding figures as Ruby Braff, Freddie Hubbard, Scott Hamilton, Warren Vache, Ken Peplowski, Harry Allen and Conte Candoli.
In British jazz, the young Barnes was recognized – and hired – by the established greats of the time:  Stan Tracy, John Dankworth, Kenny Baker, Bob Wilber, and Humphrey Lyttelton.  But he is equally respected for his longstanding and fruitful collaborations with contemporaries such as David Newton, Bruce Adams, and Martin Taylor.
Alan Barnes's unique musicianship, indefatigable touring, and warm rapport with audiences have made him uniquely popular in British jazz.  He has received over 25 British Jazz Awards, most recently in 2014 for clarinet, and has twice been made BBC Jazz Musician of the Year.
"Barnes' melodic sense bypasses the usual scale-running clichés that pepper the playing of lesser bop disciples." Peter Marsh, BBC Music Review.
"His stylistic range is quite phenomenal… He has a wonderful capacity for suggesting a given style without actually imitating anyone." Dave Gelly, Masters Of The Jazz Saxophone.
"​I was relishing the prospect of Barnes's casually consummate musicianship, deadpan humour (he could be a comedian, if jazz ever fails him), and indomitable belief in a respected place for the music's rich history in this eclectic and often forgetful world." John Fordham – The Guardian.
"Barnes plays music that was radical 50 years ago but he infuses it with so much passion and energy you could believe it was minted on the spot, which is always part of the story with jazz."  John L. Walters, The Guardian.
Gaz first came to wider public attention as the original drummer in the Matthew Halsall Band and featured heavily on the early recordings of the Gondwana label. A particular highlight was recording the album "On The GO", which won THE BEST JAZZ ALBUM OF THE YEAR – Gilles Peterson Worldwide Awards, 2012 and was nominated Best Jazz Album MOBO Awards, 2011.
His drumming influences include the school of melodic drummers such as Max Roach, Alan Dawson and Jeff Hamilton. Gaz is specifically inspired by the drummers that are able to spell out form and melody when they improvise.
Price: £13/£10/£6
Different prices are all for the same unreserved seats – please pay what you can.
Tickets in advance from wegottickets.com/ashburtonarts (10% booking fee added) or in person from Rafikis (next door to the Arts Centre), Ashburton Information Centre and (usually) on the door.
To reserve a ticket, email boxoffice@ashburtonarts.org.uk
Doors and bar open 30 minutes before the advertised start time.
Accessibility: Venue has flat access from street. PA tickets available on request.
Wheelchair users, please get in touch with the box office in advance if possible.
Free parking after 6pm and all day Sunday in the Town Car Park behind the Town Hall, and in the Grey Matter compound on Chuley Road. More information and map.