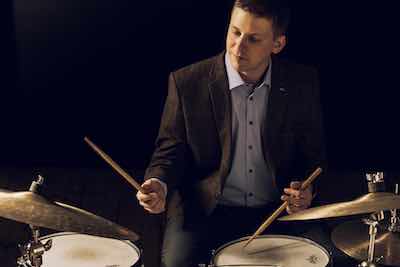 Date/Time
Sunday 23 April 2023
7:30 pm - 10:00 pm
Categories Jazz
Book here now: £15 full price • £10 or £7 if you prefer – please pay what you can*
Gaz Hughes, drums
Andrzej Baranek, piano
Ed Harrison, double bass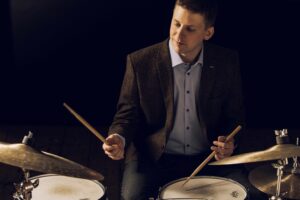 Beboptical Illusion is the third album from the Gaz Hughes Trio, and this gig is part of a 30 date UK tour to launch it. Gaz was last here in Ashburton on Sunday 15 March 2020, after an audience survey to check that enough people wanted to come. The following week is probably still etched on most of our memories as our lives closed in, diaries were emptied and lockdown loomed. We're delighted to welcome him back!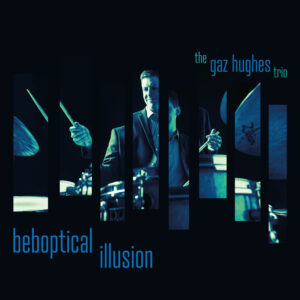 Gaz Hughes
Gaz Hughes is a renowned jazz drummer and band leader, who first gained wide public attention as the original drummer in the Matthew Halsall Band. He has played a significant role in the early recordings of the Gondwana label and has been a highlight on the album "On The Go", which won the Best Jazz Album of the Year at the Gilles Peterson Worldwide Awards in 2012, and was nominated for the Best Jazz Album MOBO Awards in 2011.
As a sideman, Gaz has performed with an impressive array of jazz artists, both in the UK and internationally, including Scott Hamilton, Harry Allen, Marshal Allen, Greg Abate, Alan Barnes, Bruce Adams, Mark Nightingale, Tony Kofi, Ian Shaw, and many others. Additionally, he has also collaborated with a number of rock and pop artists such as Patti Boulaye, Suzi Quatro, Ray Quinn, Rick Guard and Kristyna Myles.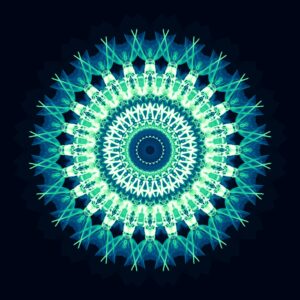 In 2019, Gaz was voted 5th Place in the British Jazz Awards. In 2020, he released his debut album as a band leader, "Plays Art Blakey", featuring Alan Barnes, Bruce Adams and Dean Masser. The album was met with critical acclaim and was supported by a UK tour and extensive radio play. In May 2022, Gaz released a trio album "Beboperation" which was well received by audiences and critics. Following its success, the trio went back to the studio to record a follow-up album. In February 2023, Gaz released his third album as a band leader, entitled "Beboptical Illusion", featuring mostly original compositions and representing a new direction for the trio. The album will be supported by a UK tour starting in March.
Gaz is an endorsed artist of the Canopus drum company.
Beboptical Illusion Album Press Release
Introducing Beboptical Illusion, the highly anticipated new album from jazz musician Gaz Hughes. This marks his third studio release, featuring 7 original compositions and a ballad by Duke Ellington. The album draws inspiration from a diverse range of genres including Bebop, Latin, New Orleans, Avant-guard and Modal influences, culminating in a unique and memorable sound. The artwork, like the music, is a "Beboptical Illusion".
Gaz Hughes and his trio, featuring Gaz Hughes on drums, Andrzej Baranek on piano and Ed Harrison on double bass, have been described as "Old school Jazz for the 21st Century" by promoter Dale Bassett of Sonata Lounge, Manchester.
This release marks a turning point for Gaz Hughes, as it is the first time he has recorded his own compositions, a new direction he will be pursuing moving forward, taking inspiration from Oscar Wilde's words "Be yourself because everyone else is taken".
The Album was captured in just two days during the summer of 2022, and is available for purchase as both a digital download and physical CD.
gazhughesmusic.com.
What the critics, promoters and musicians say:
"Incredible" Ginger Baker
"An extremely tasteful and swinging straight ahead drummer, Hughes exhibits a no-nonsense approach to his playing" jazzviews.net
"Thoroughly entertained by top class musical talent"– Pershore Jazz
"Old school Jazz for the 21st Century" Dale Bassett, Sonata Lounge
"Two superb sets from some of the UK's finest Jazz musicians" thejazzman.com
"They rarely deliver anything less than excellence and today topped just about everything that had preceded it. I feel sad for the squares who weren't there" – Bebop Spoken Here
==
This is part of the Tinners Moon Festival 2023. See ashburtonarts.org.uk/tinnersmoon2023 for more about all of the events. All tickets at wegottickets.com/tinnersmoon2023
Doors and bar open at 7pm
* We usually have three ticket prices – please pay what you can. If you can pay the full price, that's great. If choosing a cheaper ticket allows you to come to more things, then please do! Ticket receipts are split between the artists (it's usually their livelihood!) and the arts centre (keeps the place going). Except on the rare occasions when we have a sellout gig on our hands, it's always better to have someone here in the audience than an empty seat, so genuinely, please pay whatever you can.
See Access, Tickets & Finding Us for more about why there are three ticket prices, plus other useful info about coming to events at Ashburton Arts Centre: getting here, parking, loos, PA tickets, etc.