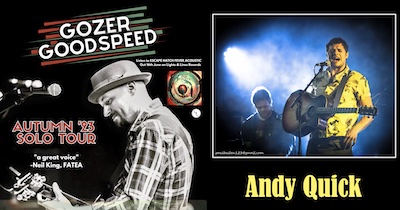 Date/Time
Monday 16 October 2023
7:30 pm - 10:00 pm
Categories Blues
Book here now: £14 full price • £10 or £7 if you prefer – please pay what you can*
Gozer Goodspeed is an emerging talent – a great songwriter and performer who's attracting attention from the national media. gozergoodspeed.co.uk. He's performed here before with his band the Neon Gamblers, and solo at one of our Not Only But Also The Blues nights. This concert is part of his Autumn '23 Solo Tour. The night will open with a set from the fabulous Andy Quick, another wonderful singer, songwriter and a superb performer based here in the South West.
From Plymouth, Gozer  weaves tales of life's fortunes, hopes, sorrows, and losses into a captivating tapestry. His music, an amalgamation of blues, rock, folk, and psychedelia, defies boundaries. He's been backed by BBC Introducing and and he was one of only three nominations for 'Song of the Year in the 2021 FATEA awards. Whether commanding the stage solo or with the band, his guitar prowess and evocative storytelling grips hearts.
As a solo performer Andy Quick hits the stage with a soaring voice, shimmering guitar, a thumping foot stomper and a lively bunch of anthems hand picked from 12 years of inspired songwriting with his festival bands. Andy is an eclectic songwriter and laid back storyteller who has played countless festivals nationally and internationally with his projects Land Of The Giants (mashed up ska/rock/reggae) and The Andy Quick Band (retro alt funk/blues).
---
This was originally listed with Davey Dodds performing instead of Andy Quick. Unfortunately, Davey's cancer treatment continues to affect his energy levels, and he's unable to play. For more information, see daveydodds.co.uk or facebook.com/DaveyDoddsmusic. We wish him well and hope for a speedy recovery.
* See Access, Tickets & Finding Us for more about why there are three ticket prices, plus other useful info about coming to events at Ashburton Arts Centre.