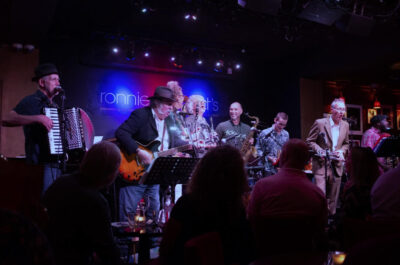 Date/Time
Friday 2 September 2022
7:30 pm - 10:00 pm
Categories Music
Book here Now:  £14 full price • £10 or £7 if you prefer, please pay what you can*
The hKippers play, as they call it, 'Stupid World Music'; bizarre lyrics about fish, hats, plaster, beer, cowboys and more fish set to a tight up-beat, klezmatic Euro-jazz-folk groove combining flights of inspired soloing and melodies your children will sing in the car home.
The Bonzos Go Womad! The staggeringly surreal hKippers are brilliant fun, the music is wild and sure to get people dancing while the lyrics and musicianship will keep you entertained.
Formed 1987 Stoke Newington by Oscar winner (for Shakespeare In Love score) by Stephen Warbeck played theatres and benefits e.g. Anti-Apartheid at The Hackney Empire supporting The Pogues, Cuba Lives, Highbury fields, Rwandan Survivors Fund, Brompton Oratory and Miners benefits , once at Camden Irish Club ended up backing one of the Temptations !
Lineup:
Stephen Warbeck –piano/accordion/vocals
Paul Bradley – vocals, guitar sellotape** 9 (Founder member of the band Mully Ully Gue )
Mike Pickering – drums/vocals ( The Tiger Lillys, Hank Wangford )
Sarah Homer – clarinet/whistles/bells(Dagmar Krause/ Django Bates/Shopping Trolley)
Chris Batchelor – trumpet (Loose Tubes )
Dave Berry – Double Bass/Tuba – Pasadena Roof Orchestra, John Kirkpatrick Band
Richard Henry – Trombone, Loose Tubes
The Dai Pritchard Brothers – clarinet/flute/whistles Pasadena Roof Orchestra, loose tubes) – claims that his uncle killed Glenn Miller!
* See Access, Tickets & Finding Us for more about why there are three ticket prices, plus other useful info about coming to events at Ashburton Arts Centre.