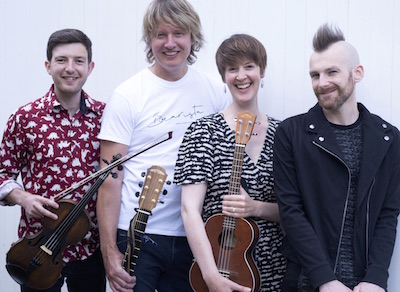 Date/Time
Saturday 11 June 2022
7:30 pm - 10:00 pm
Categories Folk
Book here now: £14 full price, £10 or £7 if you prefer*
Jon Hart (guitar, bass, bouzouki)
Lucy Hart (guitar, ukulele, bass, banjo, mandolin & percussion)
Toby Shaer (whistles, harmonium, flute, fiddle, bass)
Evan Carson (drums, bodhran, percussion)
"Lucy and Jon's vocals are gentle, rich and mellifluous throughout… This is an accomplished album from a masterly duo" Nygel Packett, Folk London Magazine
"Dexterously played with beautifully crafted arrangements around a perfect pairing of voices delivering personal fine songs this is a stunning album."  Marc Higgins, FATEA
"This album is one of the clearest recordings I've heard in a decade, holding its head above the roke and into the sunlight on every track"  Seán Laffey, Irish Music Magazine
"The vocals of Lucy are as beautiful as ever…and she is now one of this country's best folk singers"  Stephen Foster, Radio Caroline & EADT
"British folk and roots duo Honey & the Bear combines delicately interweaving vocal harmonies with emotive and evocative songwriting. With a diverse range of sounds and textures, and rhythms that flow from the fast and furious to gentle ballads, their live performances are spirited and dynamic. Conjuring stories in song, they tell tales of Suffolk folklore, courageous people they admire, their passion for nature and the odd heartbreak or two.
"The multi instrumentalist pair, songwriters Jon Hart (guitar, bass, bouzouki) and Lucy Hart (guitar, ukulele, bass, banjo, mandolin & percussion), have been writing and performing together since early 2014, having met at a songwriting event two years earlier.
"Since then, they have played at many revered venues and festivals across the UK as well as travelling across the channel for their first European tour. They supported Sam Kelly and the Lost Boys on two UK tours and opened for The Shires at world renowned Snape Maltings Concert Hall.
"Born and raised in Suffolk, Lucy learned violin and drums at school, sung in the Suffolk Jubilee choir and started songwriting at age 15. She taught herself guitar whilst at university in Canterbury, and began performing her creations not long afterwards. At 27, she released her debut band album 'Step Right On', songs from which you now hear her perform with Jon.
"Jon, a Yorkshire boy, raised in Cambridgeshire, Norfolk and Suffolk, has been performing his own songs since his teens. A self-taught guitarist, his love of driving guitar riffs is a core aspect of his song writing process. He has released three band albums – the latest, 'Level with me', featuring 'wristburner' which is a gig favourite."
* See Access, Tickets & Finding Us for more about why there are three ticket prices, plus other useful info about coming to events at Ashburton Arts Centre.