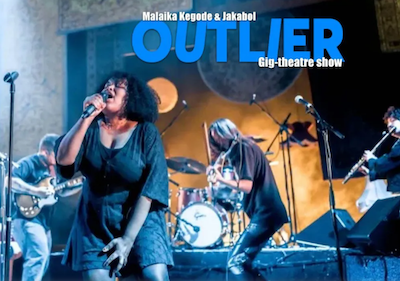 Date/Time
Wednesday 3 May 2023
7:00 pm - 10:30 pm
Categories Cinema
Book here now: £15 full price • £10 or £7 if you prefer – please pay what you can*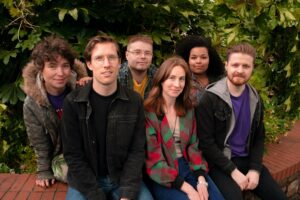 JAKABOL is an experimental music collective consisting of harp, violin, keys, drums and guitar. Inspired by the energy of bands like Mahavishnu Orchestra and King Gizzard And The Lizard Wizard, the band fuse world folk influences with progressive textures and explosive riffs.
Malaika Kegode is a poet and performer based in Bristol. She's been collabrating with Jakabol since 2018. Together they created the theatre show Outlier, based on her teenage years growing up in Ashburton. This received rave reviews in 2022, and we're delighted to be able to show one of these performances on film here, thanks to the generosity of Bristol Old Vic.
7pm: Jakabol and Malaika Kegode – Live on stage
8.15pm: Outlier – a film of a performance at Bristol Old Vic in 2022
Outlier
The sky was painfully big, but our worlds were small, our lives little. So when we found each other in the muddle of it all, that feeling of belonging was addictive."
Mal, Ama, Lewis and Oskar have grown up together; hedonistically charging through life in rural Devon. Living from party to party, they're railing against the stories that have been written for them as they stand at the precipice of adulthood. But all the space can be suffocating, and it's tough sometimes – feeling so low in a place so beautiful.
The powerful poetics of Malaika Kegode and exhilarating music of Bristol band Jakabol combine with dynamic animation in this moving, autobiographical gig-theatre show directed by Jenny Davies. Genre-defying and hopeful, Outlier explores the impact of isolation, addiction and friendship on young people coming of age in the often-forgotten places.
For people who have been through hardship and people who have come out the other side. Those those who are clinging on to hope. For those who've felt like a complete outsider (an outlier!) to feeling like they have a life.
★★★★★ Stage Talk
★★★★ The Guardian
★★★★ The Stage
==
This is part of the Tinners Moon Festival 2023. See ashburtonarts.org.uk/tinnersmoon2023 for more about all of the events. All tickets at wegottickets.com/tinnersmoon2023
Doors and bar open at 7pm
* We usually have three ticket prices – please pay what you can. If you can pay the full price, that's great. If choosing a cheaper ticket allows you to come to more things, then please do! Ticket receipts are split between the artists (it's usually their livelihood!) and the arts centre (keeps the place going). Except on the rare occasions when we have a sellout gig on our hands, it's always better to have someone here in the audience than an empty seat, so genuinely, please pay whatever you can.
See Access, Tickets & Finding Us for more about why there are three ticket prices, plus other useful info about coming to events at Ashburton Arts Centre: getting here, parking, loos, PA tickets, etc.