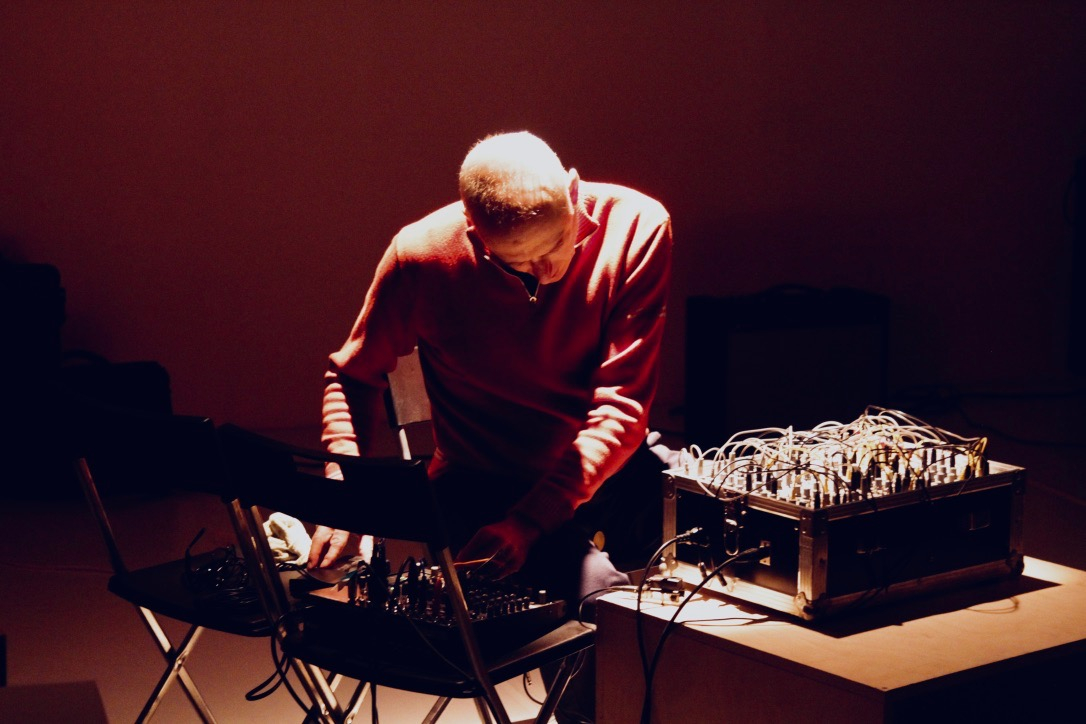 Date/Time
Sunday 24 October 2021
7:30 pm - 10:00 pm
Categories Music

Born in 1960 in New York, Jason Kahn moved to Europe in 1990 and is currently based in Zurich, where he is active as a musician, artist and writer.
Kahn's work with electronics involves chaotic feedback systems and placing his body in the circuit flow. Grabbing open leads with his hands makes and breaks circuits, causing the synth to overload or collapse. Various contact microphones and electro magnetic inductors and the synthesizer's own output via a mixingboard are used to modulate the parameters of the synth, which oscillates between saturation and a brittle sputtering, like the death rattle of a machine on its last gasp.
Live radio captures during the concert and recordings made in the performance space and its environs provide further working material for each concert. These performances are essentially site-specific works, improvising with the space at hand, both in the sense of its physicality and the sounds found there.
Among many others, Kahn has collaborated with Kevin Drumm, Jason Lescalleet, Norbert Möslang, Günter Müller, Axel Dörner, Tetuzi Akiyama, Toshimaru Nakamura, Magda Mayas, Mark Wastell, Olivia Block, Chris Abrahams, Arnold Dreyblatt, Alan Courtis, Ulrich Krieger, Sainkho Namtchylak, Z'ev, Shelley Hirsch, Peter Kowald, Taku Sugimoto, Elliott Sharp and Keith Rowe.
Pandemic policies. This information will be updated as things change.
Update: April 2022
Face masks: In the Main Hall, on the ground floor, these are recommended at all times, but are optional. Anyone who sits upstairs in the balcony MUST wear a face mask – with NO exceptions (not even those who are exempt). This is to allow people who are clinically vulnerable to have a place to sit where seats are naturally separated, so: (a) to provide a place for people who want to be as distanced as possible from others, and with anyone nearby wearing a mask; (b) as virus particles when airborne are generally heavier than air, this helps to mitigate the risk of transmission from people sitting in the balcony to audience members below.
The windows and doors of the venue will be open, allowing fresh air to be constantly moving through. Although we have heating, this might mean that the ambient temperature is a little cooler than some might like, and audience members should dress accordingly.
Please, if you can, take a Lateral Flow test before coming to the Arts Centre, and if this is positive, don't come. These tests aim to pick up anyone who is infectious at the moment of testing, so please take the test as late as possible on the same day before coming to the Arts Centre. If you test positive, a refund or transfer of your ticket to another event can be arranged, if you let us know before the start of the event, by emailing boxoffice@ashburtonarts.org.uk.