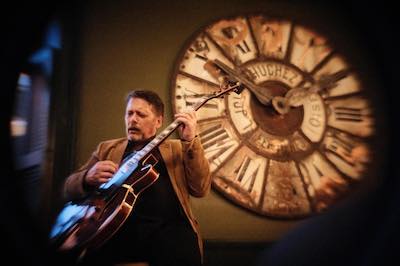 Date/Time
Saturday 30 September 2023
1:00 pm - 2:30 pm
Categories Jazz
Book here now: £12 full price • £9 or £6 if you prefer – please pay what you can*
Nigel Price is fast-becoming a legend in his own lifetime. He's become known as one of the finest guitarists in the UK during the past few years, gaining national recognition, after being notoriously good among musicians on the London jazz scene, and then with the general public in his over 500 appearances at Ronnie Scott's. This will be an exquisite, virtuoso performance, alongside the fast-emerging South West keyboard talent that is Tom Ball, on piano and organ.
Over a career spanning more than 25 years, award winning jazz guitarist Nigel Price has become widely acknowledged as one of the hardest working musicians in the business.
Musically, his blend of flowing bebop lines, deep blues sensibility and his mastery of chording continue to delight audiences and fellow musicians alike. His career highlights include a support show for Gladys Knight at The Royal Albert Hall and an appearance on Van Morrison's recent album Keep Me Singing. Listen to one of his albums below: a tribute to the legendary jazz guitar of Wes Montgomery.  This and more are all on Bandcamp here: nigethejazzer.bandcamp.com
Starting his professional career in his early 20s, Nigel toured Europe with various reggae and funk bands before settling on a solo guitar career and turning his attention to jazz. Citing early influences as Wes Montgomery, Joe Pass, John McLaughlin and the Mahavishnu Orchestra, Nigel honed his craft by attending gigs and sitting in with the players of the time.
Nigel has played on more than 50 albums including 6 as a leader, spent ten years with acid jazz outfit The Filthy Six, was a member of James Taylor's band for 3 years (with whom he recorded 5 albums) and performed with the legendary David Axelrod. He has also taught at The International Guitar Foundation at King's Place, London. He has worked tirelessly to organise his own tours (including a 56 date tour in late 2016) and has picked up a Parliamentary Jazz Award (Best Jazz Ensemble, 2010), a nomination for a British Jazz Award (Best Guitarist, 2014) and a British Jazz Award (Best Guitarist, 2016) along the way.
Nigel is a regular performer at London's Ronnie Scott's Jazz Club where he has made more than 500 appearances. He released his fifth Organ Trio Album, Heads & Tales Volume 2, in late 2016, to great critical acclaim. In 2021, in the guts of the pandemic, he finished his reorganised 2019-20 tour and released his homage to Wes Montgomery, "Wes Re-imagined".
He's joined here by Tom Ball on piano.
* See Access, Tickets & Finding Us for more about why there are three ticket prices, plus other useful info about coming to events at Ashburton Arts Centre.