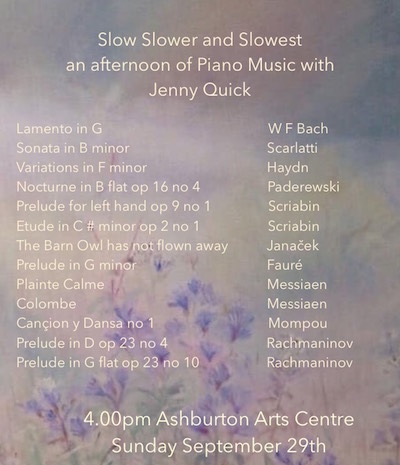 Date/Time
Sunday 29 September 2019
4:00 pm - 5:30 pm
Categories Classical
Jenny Quick Piano:  "Slow, Slower and Slowest"
Admisson: £10 or £8 or £5 (you choose, all the same unreserved seats)
Short pieces by: W F Bach, Scarlatti, Haydn, Scriabin, Fauré Paderewski, Janaček, Messiaen, Mompou, Rachmaninov: all beautifully played on our 1908 Blüthner baby grand piano.
Jenny Quick writes:
"I came into the Alexander Technique shortly after my 50th birthday, with the intention of engaging in a practice that would above all sustain and nourish me into my middle and later years and which I could share with others. I consider it to be a priceless form of health insurance. I have a background in Physiotherapy and worked in NHS hospitals for 13 years with experience in trauma, intensive care and rehabilitation. I also had a particular interest in neurology. I later specialised in ante-natal, childbirth and post-natal care, when I worked in Torbay Maternity Unit.
When family life took priority I pursued my lifelong passion of music from home and have been a performing, accompanying and teaching pianist for the last 20 years. To celebrate my 50th year I learnt Beethoven's last 3 epic piano sonatas and then in 2011, took them with me while I cycled 3500 miles from Denmark to Greece, performing them wherever pianos showed up. The journey is known as "Beethoven by Bike"! I drew daily on the Alexander Technique as my fount of physical and emotional well-being. I love this work and am happy to have the opportunity to share the inspiration of it as I teach. There is a spacious beauty and a peacefulness (as well as so many practical benefits) that is hard to define, but which for me, is at the core of learning the Technique.