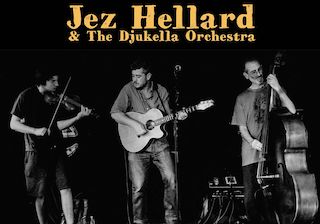 Date/Time
Wednesday 9 August 2023
7:30 pm - 10:00 pm
Categories Music
Book here now: £15 full price • £10 or £7 if you prefer – please pay what you can*
Jez Hellard is a singer of potent songs, teller of gripping tales, fine guitarist and simply stunning harmonica player who has spent the past 20 years travelling the world performing. His band, The Djukella Orchestra, play a marvellous mongrel mix of music, from bluegrass to ballads, tango, rhumba, reggae and pretty much anything in between.
In the past decade they've played well over a thousand gigs; from Glastonbury Festival to the North Country Fair, New York to Taipei, Union Chapel to Extinction Rebellion.
Featuring Nye Parsons, one of the most captivating double-bassists you're likely to witness, and some of the finest instrumentalists on the folk scene, their blend of virtuoso musicianship, witty comment and a deep repertoire of powerful songs never fails to turn heads.
"Jez has the type of voice that impels you to listen. Ridiculously enjoyable… an unequivocal thumbs up." Folk Radio UK
"Jez Hellard epitomises the hardcore troubadour." R2
"It's heartening to hear such thoughtful yet deeply felt songs, given the times we live in now. To hear them so well sung, so adroitly arranged and brilliantly performed is a joy." Songlines
jezhellard.net
jezhellardthedjukellaorchestra.bandcamp.com
facebook.com/DjukellaMusic
instagram.com/djukellamusic
* See Access, Tickets & Finding Us for more about why there are three ticket prices, plus other useful info about coming to events at Ashburton Arts Centre.