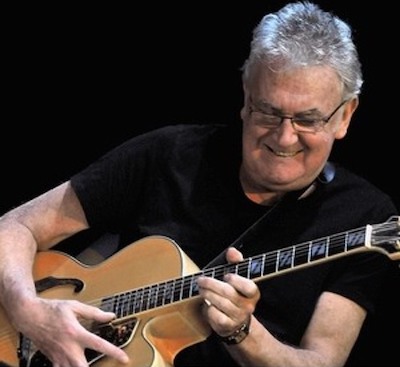 Date/Time
Wednesday 18 October 2023
7:30 pm - 10:00 pm
Categories Jazz
Book here now: £15 full price • £10 or £7 if you prefer – please pay what you can*
In association with Liquid Spirit we're delighted to present a true giant of the British music scene: guitarist Jim Mullen.
Jim Mullen – guitar
Tom Ball – organ
Tristan Mailliot – drums
"As one of the most soulful and subtly virtuosic players this country has ever produced, Jim Mullen has recorded and toured with the very best, also carving his own place in jazz-funk history as a founding member of the Morrissey-Mullen Band."  Stuart Nicholson, Jazzwise – Full article here
"The album 'Smokescreen' is a treat. Swinging, grooving and technically dazzling, many of the performances on the album are first takes, emphasising the trio's credentials as a terrific live act." Ian Mann, TheJazzMann.com – full review here
Jim Mullen has been around as long as anyone into jazz can remember, and can be said to be a true legend of the genre. We are delighted to see him again here at the Arts Centre along with premier drummer, long time collaborator and friend, Tristan Mailliot, plus Tom Ball on piano.
Aged 8, Jim started out playing a home made tub bass in a skiffle group in Glasgow. He bought his first arch top guitar aged 14 and learned everything he could from other local musicians and the American West Coast records that some of them owned, copying Barney Kessel and Wes Montgomery early on. As a young man he formed a jazz group with sax player, Malcolm Duncan and keyboardist Roger Ball, who went on to join the Average White Band. (He later toured and recorded as a guest with the group.)
Mullen moved to London in the late 1960s. His first professional job was as a jazz musician for the poet Pete Brown, today remembered as the lyricist on several songs that comprised the legendary Wheels of Fire album by Cream. After recording two albums with Pete Brown's band, Mullen moved on to Brian Auger's Oblivion Express. After appearing on the band's first three albums he joined the band Kokomo and in the mid-1970s he joined forces with tenor saxophonist Dick Morrissey to form the Morrissey-Mullen Band, a tremendously popular jazz-funk outfit where they both carved out a niche in UK jazz history.
Following 15 years and 6 albums with that genre-busting group, Jim formed various groups playing with some of London's top musicians including Mornington Lockett, Dave O'Higgins, Gary Husband, Mick Hutton, Gareth Williams, Stan Sulzmann, Gareth Lockrane, Mike Gorman, Matt Skelton and Tristan Mailliot. He's been featured on the Paul McCartney-produced All About the Music and more recently on the Citrus Sun album, People of Tomorrow, produced by Incognito co-founder, Jean-Paul 'Bluey' Maunick. In the last few years he recorded two organ trio albums and Volunteers (for a large ensemble arranged by Lockrane) and Bumpin', a tribute to Wes Montgomery's music with singer Claire Martin. Other 'names' in Jim's CV include Gene Harris, Mose Allison, Teddy Edwards, Plas Johnson (whose sax you hear on the Pink Panther theme), Jimmy Smith and Georgie Fame.
* See Access, Tickets & Finding Us for more about why there are three ticket prices, plus other useful info about coming to events at Ashburton Arts Centre.