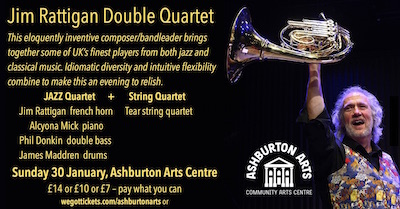 Date/Time
Sunday 30 January 2022
7:30 pm - 9:30 pm
Categories Music
Book here now  £14 or £10 or £7 – please pay what you can
This eloquently inventive composer/bandleader brings together some of UK's finest players from both jazz and classical music. Idiomatic diversity and intuitive flexibility combine to make this an evening to relish.
The lineup is:
Jim Rattigan: french horn, composer/arranger
Alcyona Mick: piano
Phil Donkin: double bass
James Maddren: drums
with the Tear string quartet
The album is called 'When"  and this will be our first tour with this music since it was recorded back in December 2019.
"A haunting, romantic, often softly swinging collection of ten songlike pieces " John Fordham
French horn virtuoso Jim Rattigan bridges the genres of scored music and jazz with this delightful collection of tunes for jazz quartet and string quartet. The results are sparkling " Mark McKergow london jazz
"The original compositions and arrangements are elegantly poised…..Rattigan's playing is ravishing.."
****BBC Music Magazine
Jim Rattigan has performed all over the world both as a jazz soloist and as a band member of various groups. These include the Michael Brecker Quindectet, the Charlie Haden / Carla Bley Liberation Music Orchestra, the McCoy Tyner Big Band, Django Bates' Delightful Precipice, the Creative Jazz Orchestra with Kenny Wheeler, Brad Mehldau with the Britten Sinfonia and the Simon Purcell Octet. Jim has toured and recorded with Mike Gibbs and the Hans Koller band with Steve Swallow and Bill Frizzell. Mark lockheart's Scratch Band, Julian Arguelles Ensemble, BBC Big Band, GuyBarker Big Band and the London Sinfonietta.
Jim studied french horn at Trinity College of music and the Royal Academy of music in London. While a student, he was a member of the European Community Youth Orchestra and a founder member of the European Community Youth Jazz Orchestra.
On leaving college he embarked on a free-lance career working with all the major London symphony orchestras, chamber orchestras and small ensembles. He joined the Royal Philharmonic Orchestra where he was a member for six years. During this time he also worked with the Bobby Lamb / Ray Premru Big Band and played on the Mike Gibbs album 'By The Way'.
Jim has played on numerous film scores including several James Bond movies, Lord Of The Rings, Batman, The Bourne Ultimatum, Moulin Rouge, Shrek and many more. He has also written music used for film T.V. and radio. Jim has worked with many pop artists including Shirley Bassey, Tom Jones, Paul McCartney, George Michael, Pulp, Barry Manilow,Damon Albarn, Adele and Paloma Faith. He has also toured with Nigel Kennedy's group, recorded with the Folk singer June Tabor and performed with blues singer Michael O'Callaghan.
Jim was recently awarded an ARAM from the Royal Academy for his contribution to music.
Pandemic policies. This information will be updated as things change.
Update: April 2022
Face masks: In the Main Hall, on the ground floor, these are recommended at all times, but are optional. Anyone who sits upstairs in the balcony MUST wear a face mask – with NO exceptions (not even those who are exempt). This is to allow people who are clinically vulnerable to have a place to sit where seats are naturally separated, so: (a) to provide a place for people who want to be as distanced as possible from others, and with anyone nearby wearing a mask; (b) as virus particles when airborne are generally heavier than air, this helps to mitigate the risk of transmission from people sitting in the balcony to audience members below.
The windows and doors of the venue will be open, allowing fresh air to be constantly moving through. Although we have heating, this might mean that the ambient temperature is a little cooler than some might like, and audience members should dress accordingly.
Please, if you can, take a Lateral Flow test before coming to the Arts Centre, and if this is positive, don't come. These tests aim to pick up anyone who is infectious at the moment of testing, so please take the test as late as possible on the same day before coming to the Arts Centre. If you test positive, a refund or transfer of your ticket to another event can be arranged, if you let us know before the start of the event, by emailing boxoffice@ashburtonarts.org.uk.