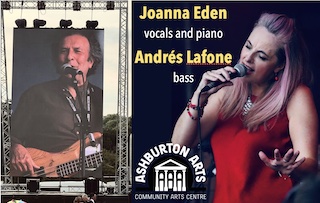 Date/Time
Saturday 5 August 2023
7:30 pm - 10:00 pm
Categories Jazz
Book here now: £15 full price • £10 or £7 if you prefer – please pay what you can*
<i>"Melody, mystery & bite"</i> Mojo
<i>"Intriguing & beguiling, quietly disarming"</i> Jazzviews.net
<i>"The UK's answer to Diana Krall & Norah Jones"</i> Time Out
Ashburton Arts Centre welcomes back singer/songwriter Joanna Eden who's been a friend of Ashburton for many years! She will be performing alongside her Uruguayan partner and collaborator, bass player Andrés Lafone,
Joanna and Andrés will perform their own beautifully crafted songs alongside some jazz and bossanova classics and others from Joni Mitchell and Bonnie Raitt.
Unmistakeably English in the same way as Fleetwood Mac, Stevie Winwood, or Nick Drake, Joanna Eden is a singer songwriter who grew up in the heart of England listening to local bands playing blues, jazz, and American hits with a British tinge.
With six solo albums to her credit, Joanna is considered one of the finest singer pianists in the UK with style that covers a broad spectrum, through jazz, Soul, Brazil, and blues. Her beautifully crafted compositions give life to personal and expressive lyrics, which – like her songwriting hero Joni Mitchell – question and reflect life's changes.
Joanna's interaction with her audience is warm and she has built up a huge following over her 20 year, performing regularly at Ronnie Scott's Club, and all over the UK. The quality of Joanna's live work is reflected by the stellar list of artists she has supported including Tom Jones, Van Morrison, Jamie Cullum and The Buena Vista Social Club.
Since moving to the UK from his native Uruguay, Andrés Lafone has established himself as a bass player and arranger whose main influence is the music of Latin America and more specifically South America.
He has performed throughout Europe and in Japan, USA, and China at some of the most important venues and music festivals, backing artists such as Basia, Airto, Snowboy, Jon Cleary, Da Lata, Monica Vasconcelos amongst others.
Among his many credits as a producer/composer are three Negrocan albums for which he wrote the song "Cada Vez", which became a worldwide hit in 2002.
Joanna and Andrés have been playing together since 2018 and have since then co-written and recorded a new original album. Together they have developed a formidable partnership which is always a hit with live audiences.
Find out more at <a href="http://joannaeden.net">joannaeden.net</a>.
<i>"Eden has melody, mystery and bite"</i> Mojo Magazine
<i>"The UK's answer to Diana Krall and Norah Jones"</i> Time Out
<i>"Eden writes sharp-witted, well-crafted songs and sings them sweetly and with conviction"</i> London Evening Standard
<a href="http://youtu.be/cYlRUDttypc">Youtube clip of Firefly by Joanna Eden & Andrés Lafone</a> youtu.be/cYlRUDttypc
<a href="http://youtu.be/Po_r0ZD-CsI">Blue Motel Room by Joni Mitchell live at JoniFest</a> youtu.be/Po_r0ZD-CsI
<a href=http://soundcloud.com/bigbuzzard/sets/joanna-eden>Here's Joanna singing three of her own songs, recorded in St Lawrence Chapel here in Ashburton a few years ago on Soundcloud</a> soundcloud.com/bigbuzzard/sets/joanna-eden
* See Access, Tickets & Finding Us for more about why there are three ticket prices, plus other useful info about coming to events at Ashburton Arts Centre.