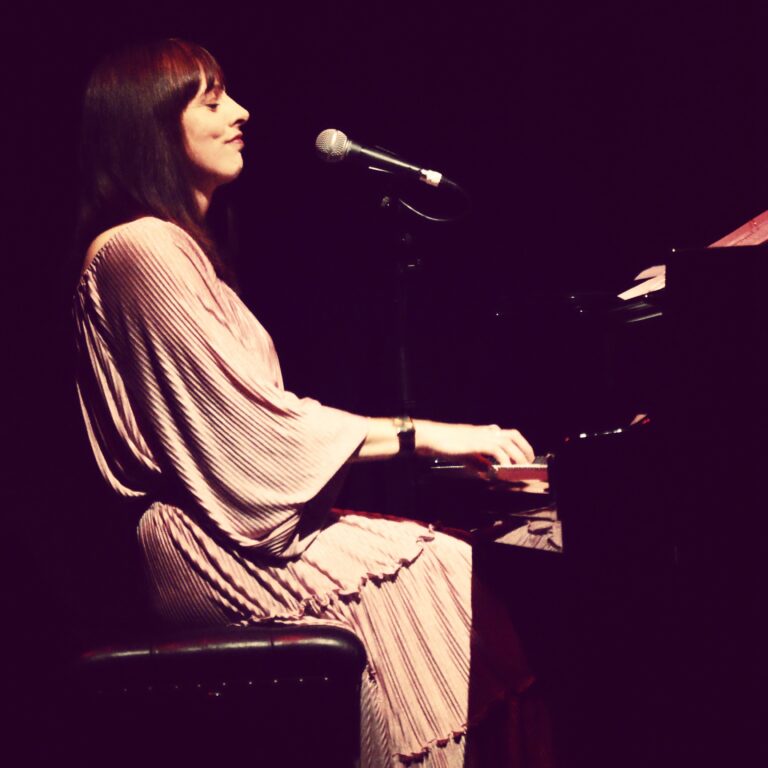 Date/Time
Wednesday 28 July 2021
7:30 pm - 10:00 pm
Categories Music
Celebrating 50 Years since Joni Mitchell released the album Blue, with several of Joni's songs, plus some of her exquisite originals, and songs by James Taylor & Carole King.
Lincolnshire born Joanna Eden wrote and performed her first song Happy December age seven. The daughter of a musician and a drama teacher she could read music before she could write, studied piano from age 4 and left university 17 years later with her first tour (with college Indie-band 'Precious'), an all consuming love of Ella Fitzgerald and a weakness for drummers.
Joanna has performed her jazz influenced original music all over the world and supported world-class artists including Jamie Cullum, the Buena Vista Social Club, Ronan Keating and the Blockheads.

Sir Michael Parkinson instructed his Radio 2 listeners to "seek her out" and jazz legend Courtney Pine champions her recordings on his BBC Radio 2 show, while Jamie Cullum describes her as "Brilliant!".

She has performed live on BBC Radio 4's Woman's Hour and Mojo Magazine has given her original albums rave reviews stating that her songs have "melody, mystery and bite!". Time Out described Joanna as "the UK's answer to Diana Krall and Norah Jones."

Joanna has been a singing teacher for 12 years and is so proud that her first student Sam Smith has become an international star and highest selling debut artist in the US since records began.
She's joined on bass by Andrés Lafone: Originally from Uruguay bass player Andy Lafone moved to London in the late 70s and has been there ever since. A leading light of the Latin American music scene in the UK and Europe he came to prominence in the late 80s and early 90s as part of the Jazz Dance/Acid Jazz scene and he has, since then, cemented a reputation as one of the most skilled and creative players on the Latin scene.
Through the 90s and 2000s he recorded and toured worldwide with the singer Basia, picking up a gold album on the way, as well as touring and recording with New Orleans based singer/pianist Jon Cleary and appearing at Montreux Jazz Festival with Cruzeiro do Sul. It was during this time that he also first teamed up with leading UK Latin musician and band leader Snowboy, appearing on 7 of his albums and still touring and recording with him to this day. He has toured worldwide with the iconic Latin band Da Latta and is a founder member and leader of the band Negrocan. His composition 'Cada Vez' was nominated for a Billboard Award in 2002 as well as the "Song of the Summer' award in Ibiza. This composition was a worldwide hit and can still be heard regularly in clubs and on the radio.
"The UK's answer to Diana Krall and Nora Jones" Time Out
"Joanna Eden is the reason I sing" Sam Smith
"Melody, mystery and bite" Mojo
"A seriously talented vocalist" Jazz Journal
Pandemic policies. This information will be updated as things change.
Update: April 2022
Face masks: In the Main Hall, on the ground floor, these are recommended at all times, but are optional. Anyone who sits upstairs in the balcony MUST wear a face mask – with NO exceptions (not even those who are exempt). This is to allow people who are clinically vulnerable to have a place to sit where seats are naturally separated, so: (a) to provide a place for people who want to be as distanced as possible from others, and with anyone nearby wearing a mask; (b) as virus particles when airborne are generally heavier than air, this helps to mitigate the risk of transmission from people sitting in the balcony to audience members below.
The windows and doors of the venue will be open, allowing fresh air to be constantly moving through. Although we have heating, this might mean that the ambient temperature is a little cooler than some might like, and audience members should dress accordingly.
Please, if you can, take a Lateral Flow test before coming to the Arts Centre, and if this is positive, don't come. These tests aim to pick up anyone who is infectious at the moment of testing, so please take the test as late as possible on the same day before coming to the Arts Centre. If you test positive, a refund or transfer of your ticket to another event can be arranged, if you let us know before the start of the event, by emailing boxoffice@ashburtonarts.org.uk.