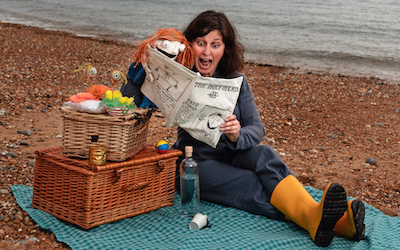 Date/Time
Sunday 8 May 2022
11:00 am - 12:00 pm
Categories Comedy
Our apologies. Joanna Neary was coming to Ashburton from Eastbourne for an evening show on Saturday 7 May, and for this show on Sunday morning.
Unfortunately, the cam belt on her car broke – and with a car load of family and set and props, it was impossible to continue the journey. So this show on Sunday morning isn't happening. Elvis Mcgonagall is replacing her on Saturday evening.
Apologies to all the children – she will be back!
Thanks for your understanding and patience.
Andy Williamson
Arts Director, Ashburton Arts Centre
—-
Amelie The Little Crab loves their life in the rock-pool, but her best friend Stinky is bored and wishes for adventure. Will his dreams come true? A family-friendly puppet show. "Haven't laughed this much in ages…and the children really enjoyed it too!" **** The List
Length: approx 1 hour
* See Access, Tickets & Finding Us for more about why there are three ticket prices, plus other useful info about coming to events at Ashburton Arts Centre.