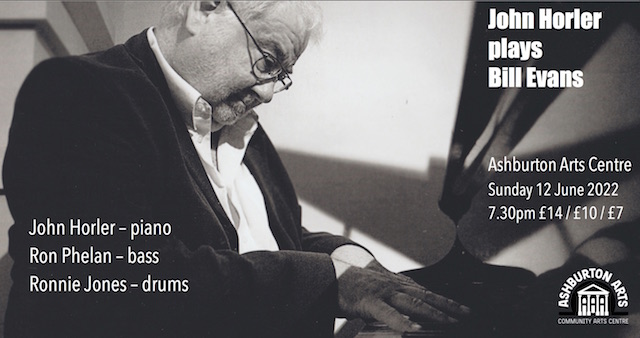 Date/Time
Sunday 12 June 2022
7:30 am - 10:00 am
Categories Jazz
John Horler (piano)
Ronnie jones (drums)
Ron Phelan (bass)
John Horler presents a special evening celebrating the music of Bill Evans.
As Dave Gelly wrote in The Observer, "Musicians know John Horler as one of the finest jazz pianists that Britain has ever produced" and we're privileged and delighted to welcome him to Ashburton.
The pianist for Sir John Dankworth and accompanist for Dame Cleo Laine for 20 years, John has performed with the leading lights of modern jazz including: Art Farmer, Chet Baker, Zoot Sims, Maynard Ferguson, Tony Coe, Ronnie Ross, Pete King, Kenny Wheeler and Tommy Whittle.
But John says it is the playing of Bill Evans which has been a lifelong stimulus; "Embracing the music of European composers Debussy, Ravel and even Brahms, which he welded into his own very special jazz language.Even today he is still the most influential figure in my playing in an inspirational way."
Joined by Ron Phelan on double bass and Ronnie Jones on drums, this is a priceless opportunity to see one of Britain's most acclaimed jazz pianists playing the music he loves.
"Jazz and classical idioms live happily side by side in the benign and often surprising world of pianist and composer John Horler. It's best not to try second-guessing him, just wait and enjoy what emerges.

"Horler does what only the very best can do: he creates a version that is completely his own while also conveying the essence of the original."
Dave Gelly, John Horler: Free and Easy review – Delights from Bach to Basie, (The Guardian, 15th July 2018)
Doors and bar at 7pm. Show starts at 7.30pm