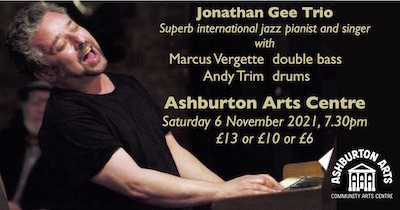 Date/Time
Saturday 6 November 2021
7:30 pm - 10:00 pm
Categories Jazz
Jonathan Gee: piano
Marcus Vergette: double bass
Andy Trim: drums
Jonathan has performed all over the world with his various trios, including New York's Lincoln Centre, the Rome Festival, Pori Festival, Baku Festival, and well known clubs such as Ronnie Scott's in London. He has performed with such jazz stars as Claire Martin, Mark Murphy and Pharoah Sanders and has just released a new album 'Re-imagining The Beatles' featuring Italian saxophone star Gaetano Partipilo. The Independent acclaimed Jonathan as 'a compelling pianist' whose 'incisive improvisatory style is capable of packing a wealth of rhythmic and harmonic ideas into a single phrase.'
For this mini tour of Devon with Marcus Vergette on bass and Andy Trim on drums, Jonathan will be playing the music of Keith Jarrett and Stevie Wonder and perhaps some lockdown-inspired songs like Don't Get Around Much Anymore, The Nearness of You and Don't Stand So Close To Me.
Marcus Vergette on bass has worked with many of the UK's top jazz musicians including Mike Westbrook, Jean Toussaint, Steve Buckley and Don Weller. He's also an internationally-acclaimed sculptor who has exhibited, for example, in The Venice Guggenheim Collection. He has several tidal bells installed around the UK. His amazing double bell musical sculpture, the Harmonic Canon was a highlight of the Tinners Moon festival here at the Arts Centre in May 2019.
Andy Trim is one of the UK's leading drummers, having worked with everyone from Humphrey Lyttleton and Peter King to Robert Mitchell, Mike Outram and Zoe Rahman. He has also worked with US legends such as Charles McPherson and Gene 'Mighty Flea' Connors and he runs a legendary monthly Friday night gig at The Archduke Wine Bar in London.
Pandemic policies. This information will be updated as things change.
Update: April 2022
Face masks: In the Main Hall, on the ground floor, these are recommended at all times, but are optional. Anyone who sits upstairs in the balcony MUST wear a face mask – with NO exceptions (not even those who are exempt). This is to allow people who are clinically vulnerable to have a place to sit where seats are naturally separated, so: (a) to provide a place for people who want to be as distanced as possible from others, and with anyone nearby wearing a mask; (b) as virus particles when airborne are generally heavier than air, this helps to mitigate the risk of transmission from people sitting in the balcony to audience members below.
The windows and doors of the venue will be open, allowing fresh air to be constantly moving through. Although we have heating, this might mean that the ambient temperature is a little cooler than some might like, and audience members should dress accordingly.
Please, if you can, take a Lateral Flow test before coming to the Arts Centre, and if this is positive, don't come. These tests aim to pick up anyone who is infectious at the moment of testing, so please take the test as late as possible on the same day before coming to the Arts Centre. If you test positive, a refund or transfer of your ticket to another event can be arranged, if you let us know before the start of the event, by emailing boxoffice@ashburtonarts.org.uk.