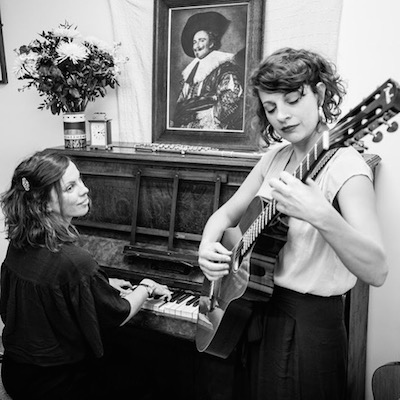 Date/Time
Friday 15 November 2019
7:30 pm - 9:30 pm
Categories Folk
Julu Irvine & Heg Brignall
's songs and music are a mix of traditional and original, following themes of love and loss; dreams and reflections and struggle and triumph against all odds. The duo bring powerful songwriting, weaving stories and crisp vocal harmonies to create a beautiful, distinctive sound.
But what also caught the attention of gig promoter
Katie Whitehouse
was the feminist twist to some of their songs; Julu & Heg have taken stories where female characters are portrayed as weak and needing the help of a man, and have adapted them to show women in their strength. Add to that their wonderful chemistry and charisma, natural humour, a very pure yet deep sound and a beautiful mix of vocal harmonies, guitar, flute and piano, and we have ourselves a great night in store.
Plus they've just recorded a stunning new single, so we will get to hear that!
Support: Holly Ebony
Effortless cascading vocals, both mellifluously soothing and peaty and raw as the Dartmoor landscape she hails from. Holly Ebony traverses folk, soul and blues through her textural, lyrical songs in a deep rooted, sensual serenade to the Earth.  As leader of 'The Feral Chorus', Devon based 'unchoir', and family singing forest group 'Wild Birds Singing', Holly is most often found holding collective community song. This opportunity to hear her perform her original songs with voice and guitar will be a rare treat.