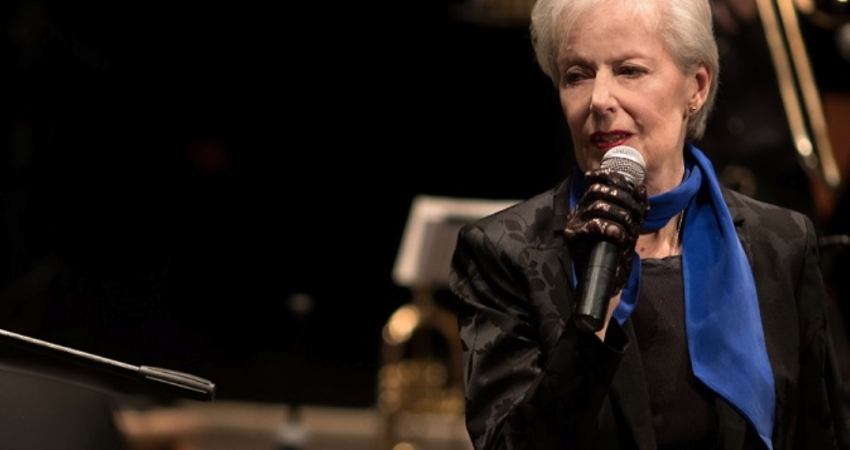 Date/Time
Friday 5 November 2021
7:30 pm - 10:00 pm
Categories Jazz
Kate Westbrook acknowledges no musical boundaries. Her distinctive, theatrically charged vocal style has won her an international reputation, 'a voice for winter, exile, anger; but also for love and prophesy' (Jazzwise). Earth Felt The Wound, its title a quote from Milton's Paradise Lost, explores contemporary themes with irony and passion. 'An apocalyptic vision, reflecting the effects of climate change and humankind's disregard and stupidity' (Jazz Journal). Kate's strikingly original lyrics are matched by the genre-busting score of Mike Westbrook and by the 'empathetic contributions' of The Granite Band- 'the south-west supergroup, hard, granular, crystalline and totally rock solid' (London Jazz).
Kate Westbrook formed the Granite Band in 2018. The musicians are all fellow members of the West Country-based Uncommon Orchestra. Their debut recording Granite began Kate's collaboration with producer Jay Auborn. Inspired by her love of Dartmoor, Granite is described as 'epic and ground breaking'. Of the second album Earth Felt The Wound the Morning Star says 'Never has Kate sung with such protean power. Lyricism, blues, prophesy, exhortation, admonition and menace all pour out of her words'.
Kate originally studied Fine Art. From the mid 1970s she has followed the dual career of painter and musician. She has toured internationally, recorded over thirty albums, and worked in many contexts. She sang the role of Anna in The Seven Deadly Sins by Brecht and Weill with the LSO, arias by Rossini in Big Band Rossini at the BBC Proms, and Beatles songs with the Westbrook Band in Off Abbey Road. With Phil Minton Kate sings Mike Westbrook's settings of William Blake. She sang multiple roles in the television opera Good Friday 1663 commissioned by Channel Four. Kate sings in English, Italian, French and German. She worked with the NDR Band in Hamburg, and was guest soloist in a series of performances in the Christus Pavillon at the Expo 2000, Hannover. She toured France with L'Ensemble Justiniana, singing the role of La Chanteuse in the opera Quichotte. Kate was a featured soloist in the premiere of Michael Finnissy's The Transgressive Gospel in 2009. With the ensemble Lavolta she performed Walton's Façade Two, and works by Judith Weir, Kurt Weill and Luciano Berio.
Her songwriting is equally wide-ranging. In Cuff Clout, a neoteric music-hall, performed with vocalist John Winfield and her group The Skirmishers, Kate set her 'witty and eccentric texts to bold and genre-crossing music' (Downbeat) by eight composers from the worlds of pop, jazz and classical music, including Eleanor Alberga, Errollyn Wallen, Chris Biscoe, Barbara Thompson and the late Lindsay Cooper. Kate's collaboration with Mike Westbrook began with their jazz cabaret Mama Chicago, which won the Edinburgh Festival Fringe Award in 1978. There has followed a succession of music-theatre pieces, settings of European poetry, operas and song cycles.
Kate's lyrics are often a response to contemporary social, cultural and environmental issues. Earth Felt The Wound is, in the words of Jazz Journal 'a cornucopia of emotions, poignant reminders, anger and dismay, with particular contemporary relevance'.
Pandemic policies. This information will be updated as things change.
Update: April 2022
Face masks: In the Main Hall, on the ground floor, these are recommended at all times, but are optional. Anyone who sits upstairs in the balcony MUST wear a face mask – with NO exceptions (not even those who are exempt). This is to allow people who are clinically vulnerable to have a place to sit where seats are naturally separated, so: (a) to provide a place for people who want to be as distanced as possible from others, and with anyone nearby wearing a mask; (b) as virus particles when airborne are generally heavier than air, this helps to mitigate the risk of transmission from people sitting in the balcony to audience members below.
The windows and doors of the venue will be open, allowing fresh air to be constantly moving through. Although we have heating, this might mean that the ambient temperature is a little cooler than some might like, and audience members should dress accordingly.
Please, if you can, take a Lateral Flow test before coming to the Arts Centre, and if this is positive, don't come. These tests aim to pick up anyone who is infectious at the moment of testing, so please take the test as late as possible on the same day before coming to the Arts Centre. If you test positive, a refund or transfer of your ticket to another event can be arranged, if you let us know before the start of the event, by emailing boxoffice@ashburtonarts.org.uk.