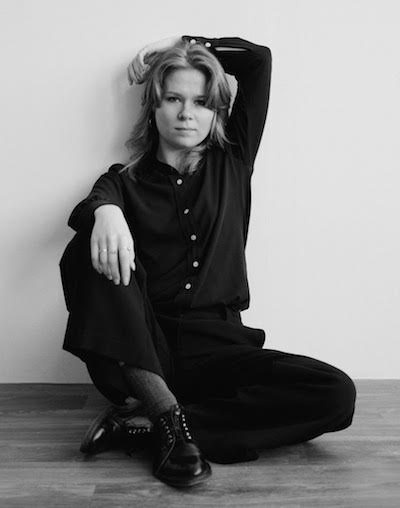 Date/Time
Saturday 23 September 2023
7:30 pm - 10:00 pm
Categories Folk
Book here now: £15 full price • £11 or £7 if you prefer – please pay what you can*
Presented by our friends at From The Whitehouse, who write…
Raised in the East Yorkshire flatlands on the fringes of Hull, Katie Spencer's landscape has always been that of open skies and widening rivers. Industry still shapes the city here. The people, as with the land, are moulded by tides and stark horizons. Stand in the same place for long enough and you can watch the sun rise over the North Sea and then sink into crop fields, glowing auburn in late-summer sun. It is this sense of space and movement that flows through Katie Spencer's music, which you can listen to right here: katiespencerofficial.bandcamp.com. Here's one of the five albums you'll find there:
The songwriting, and most notably her guitar playing stems from a time when the steel-stringed instrument was truly finding its voice. Artists like Joni Mitchell, James Taylor and perhaps most evidently Michael Chapman, flow into her sound, carrying with them the warmth and idealism of the early 70s folk and songwriter movements.
Katie Spencer's widely celebrated new album, The Edge of the Land (2022), follows her debut release, Weather Beaten (2019) which was praised for its unique song-craft, spell-binding musicianship and crystal sonic clarity, as she brought together fans of music from all backgrounds and walks of life. Delicate and un-rushed, the ten songs on The Edge of the Land drift by like ships on the horizon, yet intimacy and introspection still remain.
The inclusivity found in her recorded works is most apparent when on stage, with a personal connection and humour that allows the listener time to appreciate the emotion of the music. Her historical gig list is extensive, taking in the world-renowned Celtic Connections and Cambridge Folk Festivals, whilst performances with Danny Thompson and Alan Thomson have left audiences in awe of her confidence and craftsmanship.
As live music has returned to our world, we can expect to see Katie Spencer where she belongs once more, eyes closed, in the moment, performing.
"Her articulate picking, with suggestions of folk and jazz, frames intelligently written songs and is the backbone to her music." Guitarist Magazine
"One of the most satisfying and spellbinding singer-songwriter collections I've encountered in some time." RnR Magazine ★★★★★
"Imaginative imagery supported by compelling music that summons up the best of early 70s folk, fluently delivered here with its own contemporary power. This is a fine collection of memorable songs by an outstanding writer and musician." Record Collector
"A timeless English folk album, perfect for the still calm of a Sunday morning." Shindig!
"Katie Spencer sits gracefully in a vocal nook between Sandy Denny, Linda Thompson and, to conjure a name we hear less often these days, Bridget St John."  Prog Magazine
"The way Katie plays is never contrived, showy or imitative; it sounds true … a world-class folk guitarist" fRoots
"Katie's guitar playing has echoes of my dear friend the late great Bert Jansch. Like a musical weaver she threads her poetic lyrics through the guitar's strings and produces little tapestries of song" Ralph McTell
katiespencer.net
facebook.com/katiespencermusic
twitter.com/KRSpencerMusic
instagram.com/katiespencermusic
Greg Hancock

Greg Hancock returned to the UK after most of his adult life overseas and quickly set about building a reputation as one of the most original songwriters and guitarists on the acoustic scene these days. Based in Devon these days, his songs cover mature topics from the hilarious to the heartbreaking, all observed from a slightly skewed viewpoint on the human condition. With rich, witty lyrics and intricate fingerstyle guitar playing, he tells stories and paint portraits that will draw you into a world that is very personal – yet equally, universal and recognisable. Early folk stylings have evolved into a unique guitar technique with evident influence from jazz and flamenco blended with influences as diverse as Joni Mitchell, Nic Jones and Frank Zappa!
Greg has released three albums, and each one has been widely reviewed and admired in the music media. They form a loose trilogy, with a wide variety of songs following vaguely the themes of memory, false memory and the past existing very much in the present.
He spent some years working as an archaeologist and this also creeps into his works from time to time! In recent years he has increasingly focussed on ideas of home, nationality, popular mythology and populist tropes.
* See Access, Tickets & Finding Us for more about why there are three ticket prices, plus other useful info about coming to events at Ashburton Arts Centre.