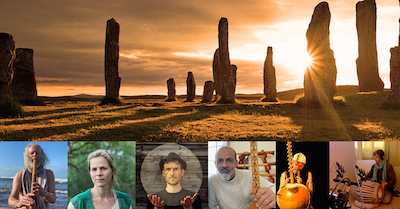 Date/Time
Monday 21 June 2021
7:30 pm - 10:00 pm
Book here now: £13 or £10 or £6 – you choose.
Kindred Souls Music is a celebration of music as the universal language of the heart. Unique instrumental combinations and voices play original songs and music, as well as traditional music from Japan, Africa and the Middle East.
This is a Special Solstice Liberation Concert to celebrate June 21st 2021.
The 'Kindred Souls' of this project are musicians who have been drawn to world music, meditation music, medicine music and devotional music from various traditions. Featuring :
Adrian Freedman – shakuhachi
Charlotte Mabon – voice and guitar
Iwan Kushka – mbira, frame drum, guembri
Adnan Agha – saz
Ravi Freeman – kora, voice and guitar
Arjun Magee – dholak
The new Kindred Souls album will be released on June 18th 2021 by Nixi Music.
Listen to Astral Dawn, the first single to be released from this album:
Presented by The Black Bird Collective and FromtheWhitehouse
Doors and bar open at 7pm.
Pandemic policies. This information will be updated as things change.
Update: April 2022
Face masks: In the Main Hall, on the ground floor, these are recommended at all times, but are optional. Anyone who sits upstairs in the balcony MUST wear a face mask – with NO exceptions (not even those who are exempt). This is to allow people who are clinically vulnerable to have a place to sit where seats are naturally separated, so: (a) to provide a place for people who want to be as distanced as possible from others, and with anyone nearby wearing a mask; (b) as virus particles when airborne are generally heavier than air, this helps to mitigate the risk of transmission from people sitting in the balcony to audience members below.
The windows and doors of the venue will be open, allowing fresh air to be constantly moving through. Although we have heating, this might mean that the ambient temperature is a little cooler than some might like, and audience members should dress accordingly.
Please, if you can, take a Lateral Flow test before coming to the Arts Centre, and if this is positive, don't come. These tests aim to pick up anyone who is infectious at the moment of testing, so please take the test as late as possible on the same day before coming to the Arts Centre. If you test positive, a refund or transfer of your ticket to another event can be arranged, if you let us know before the start of the event, by emailing boxoffice@ashburtonarts.org.uk.