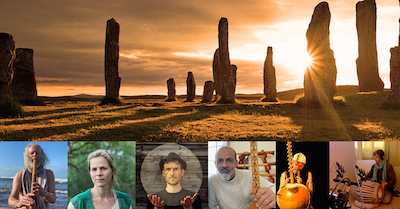 Date/Time
Monday 21 June 2021
7:30 pm - 10:00 pm
Book here now: £13 or £10 or £6 – you choose.
Kindred Souls Music is a celebration of music as the universal language of the heart. Unique instrumental combinations and voices play original songs and music, as well as traditional music from Japan, Africa and the Middle East.
This is a Special Solstice Liberation Concert to celebrate June 21st 2021.
The 'Kindred Souls' of this project are musicians who have been drawn to world music, meditation music, medicine music and devotional music from various traditions. Featuring :
Adrian Freedman – shakuhachi
Charlotte Mabon – voice and guitar
Iwan Kushka – mbira, frame drum, guembri
Adnan Agha – saz
Ravi Freeman – kora, voice and guitar
Arjun Magee – dholak
The new Kindred Souls album will be released on June 18th 2021 by Nixi Music.
Listen to Astral Dawn, the first single to be released from this album:
Presented by The Black Bird Collective and FromtheWhitehouse
Doors and bar open at 7pm.
Pandemic policies. This information will be updated as things change.
Sat 15 May: From Step 3 of the UK government's 'roadmap', which comes into force on Monday 17 May 2021, we are able to open to a public audience. For all events from 17 May, until further changes are announced:
The windows and doors of the venue will be open, allowing fresh air to be constantly moving through. This may mean that the ambient temperature is similar to outdoors, and audience members should dress accordingly.
All audiences will be seated in socially-distanced bubbles. Please stay seated as much as possible while inside the building.
Hand sanitiser will be available as well as soap and water in the toilets; please use these frequently.
Bar service at the Arts Centre is carried out by volunteers. If they are available at any event, they will take orders at your seat, and bring drinks to you.
All members of the audience must wear a facemask while indoors, except if medically exempt, or when eating or drinking. Our experience is that this is one of the things most important for making some (perhaps more vulnerable) members of the audience feel safe to attend concerts. Whatever your opinion of the efficacy of facemasks in preventing the spread of the virus, please help to reassure others, and showing that you're thinking of them, by complying with this.
There are posters inside the building showing the QR code that's connected to the NHS Track and Trace app – please use this. We will also keep a record of all ticket buyers for the required period, and pass this on to the NHS or Devon Public Health if requested.