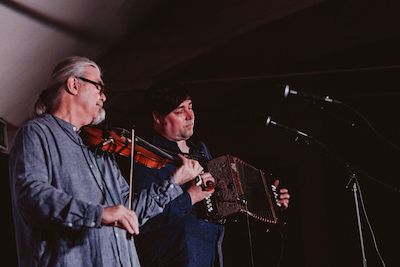 Date/Time
Sunday 30 April 2023
3:00 pm - 5:30 pm
Categories Folk
Book here now: £15 full price • £10 or £7 if you prefer – please pay what you can*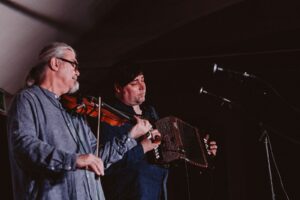 The pairing of violin and melodeon is not a new one, but in the hands of Peter Knight (Steeleye Span) and John Spiers (Bellowhead), improvisation and invention meet the listener at every turn. Together they have created a something to inspire future generations of musicians to engage with Britain's folk dancing heritage, and the beautiful, mysterious tunes that can be found within that heritage.
Originally brought together by FolkEast Festival for a one-off concert in 2016, their partnership has blossomed into "One of the most intriguing and exciting collaborations on today's folk scene"  FRUK
"There can be no doubting that both performers are amongst the most, if not the most, talented of their peers. I was probably not the only person to leave the venue in awe at having witnessed something very special"  Fatea Magazine
==
This is part of the Tinners Moon Festival 2023. See ashburtonarts.org.uk/tinnersmoon2023 for more about all of the events. All tickets at wegottickets.com/tinnersmoon2023
Doors and bar open at 2.30pm
* We usually have three ticket prices – please pay what you can. If you can pay the full price, that's great. If choosing a cheaper ticket allows you to come to more things, then please do! Ticket receipts are split between the artists (it's usually their livelihood!) and the arts centre (keeps the place going). Except on the rare occasions when we have a sellout gig on our hands, it's always better to have someone here in the audience than an empty seat, so genuinely, please pay whatever you can.
See Access, Tickets & Finding Us for more about why there are three ticket prices, plus other useful info about coming to events at Ashburton Arts Centre: getting here, parking, loos, PA tickets, etc.