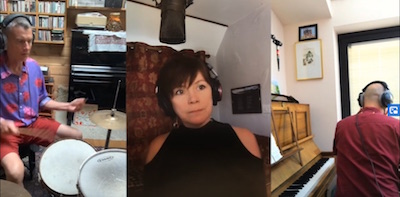 Date/Time
Wednesday 11 January 2023
7:30 pm - 10:00 pm
Categories Jazz
Book here now: £15 full price • £11 or £7 if you prefer – please pay what you can
Cathy Jordan voice, bouzouki, bodhran, bones
Liam Noble piano/synthesiser
Paul Clarvis drums
Cathy Jordan, the Irish Traditional folk singer well known for her long involvement in Dervish and the Transatlantic Sessions joins Liam Noble and Paul Clarvis, those purveyors of "exquisite and casually joyous music-making" Starry Starry Night 2009, John Fordham, The Guardian
Liam Noble (piano) and Paul Clarvis (drums/percussion) are two of the most original and consistently great voices on the UK jazz scene. They're always worth seeing and this project looks like being no exception. It began during lockdown, with some remote collaboration. Now they're releasing an album, with a 15-date UK tour to launch it. We're delighted and privileged to be hosting them here in Ashburton.
Cathy Jordan, born in County Roscommon, is a singer, songwriter, and multi-instrumentalist playing guitar, bodhran, bones and bouzouki. She has been the lead vocalist for the traditional Irish music band Dervish since 1991, a member of The Unwanted and a solo performer, releasing her first solo album, All The Way Home, in 2012. At the end of 2019 Dervish received a prestigious lifetime achievement award from the BBC, as "an icon of Irish music".
Liam Noble and Paul Clarvis, familiar to many for their many projects, first met and played together with Moondog in Europe in the early 1990s.
Liam Noble – playing everything from standards, new composition, free improvisation and electronics, Liam's most recent release The Long Game 2019 introduced the trio with Tom Herbert and Seb Rochford. His long regular Trio with Dave Whitford and Dave Wickins was augmented by Chris Batchelor and Shabaka Hutchings for the quintet Brother Face and he regularly plays with Julian Siegel, Bobby Wellins, Mark Lockheart, Christine Tobin, Pigfoot, and the improvising trio Sleepthief with Tom Rainey and Ingrid Laubrock. His other US collaborators include Peter Evans, Larry Grenadier, Eric Harland, Mary Halverson, Marc Ducret, Evan Parker, Okkyung Lee and Mat Maneri. He is Professor of Jazz Piano at the Royal Academy of Music.
Paul Clarvis – the original and ever-youthful Enfield sound (Paul turns 60 in 2023) has collaborated with some of the world's best composers and performers from Nina Simone, Sir Harrison Birtwistle and John Adams to Stevie Wonder, Mick Jagger, Sir John Dankworth and Paul McCartney. He was the late Leonard Bernstein's preferred percussionist in London, featured soloist in the 1995 Proms performance of Birtwistle's Panic, a concerto for saxophone and drum kit, and worked with Rick Smith on the drum arrangement for the London Olympics 2012 show-stopping opening. His film and album credits and collaborators are many – in jazz withIs Mose Allison, Herbie Hancock, Andy Shepherd, Stan Sulzmann, Steve Swallow, John Taylor, Kenny Wheeler, Norma Winstone, with Liam in Chris Batchelor's Pigfoot & Zoetic, Henry Lowther's Still Waters, Mark Lewandowski, Josephine Davies & Satori, Alan Barnes, Gordon Beck, Tim Garland, Jon Lloyd, Sam Rivers, Andy Sheppard, and the much-missed Orquestra Mahatma. He is Professor of Drum Set, Latin American & Ethic Percussion at the Royal Academy of Music.