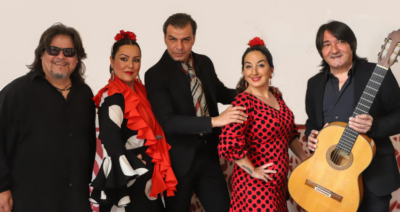 Date/Time
Friday 12 August 2022
7:00 pm - 10:00 pm
Categories Music
Book here now: £14 full price • £10 or £7 if you prefer*
This unique performance invites us to explore the world of flamenco inspired by the life of Lola Flores from Jerez (1923-1995). With Camarón de las Islas and Paco de Lucia, Lola is one of the three most internationally acclaimed legends among aficionados of the art of "flamenco".
We present a dynamic and contemporary performance based on the traditional flamenco of West Andalucia which gives particular emphasis to the cantes (songs) and dances of Jerez de la Frontera that were made famous by Lola Flores.
LOLA is a unique and authentic traditional performance of song, dance and toque –guitar- inspiring our audience to enter into the Gypsy world of authentic flamenco and feel the very soul of Jerez de la Frontera – The Cradle of Flamenco.
* See Access, Tickets & Finding Us for more about why there are three ticket prices, plus other useful info about coming to events at Ashburton Arts Centre.