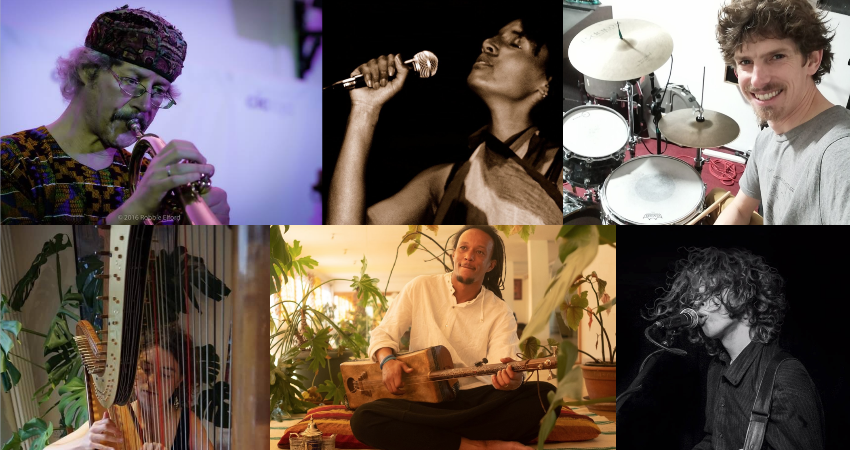 Date/Time
Thursday 30 July 2020
6:00 pm - 10:30 pm
Categories Community Event
This is an OUTDOOR event. Ticket holders will be sent directions about how to find the venue, or turn up to the Arts Centre at 6pm, 6.15pm or 6.30 to be led, on foot – bring a picnic. Also bring a torch, as it will be dark coming back later. Cash bar at the venue.
Tickets available now – please book online in advance. See below.
Expect loose, fresh, joyful, pulsating spiritually upbeat sounds.
Emerging blinking into the summer light through the pandemic's tunnel we present, in a fabulous outdoor venue, 10 minutes walk from the centre of Ashburton, this new band of musicians, all extremely experienced in the art of making a joyful noise! They are:
David Mowat: veteran world jazz trumpeter
Emmy Broughton: rising star of the concert harp
Will Broughton: guitars
Jamie Broughton: vocals
Pete Warner: drums
They'll be joined by:
Mohamed Errebbaa (Morrocco): Guembri – appearing live in the UK for the first time!
Chloë Rose Laing: vocals (Roots Afro Soul singer)
It'll be an evening of spiritual indie jazz. There will be space for Socially Distant Dancing.
These are uncertain times, other performers may join them. They are preparing their set on a Cornish permaculture farm for three days, then bringing it to us in Ashburton for two nights on their way back to Bristol.
Mohamed Errebbaa, is a guembri player in the Gnawa tradition from Morocco: Lala Fatima is a song from the part called negsha from gnawa répertoire, it was recorded by (Simo) MOHAMED ERREBBAA in collaboration with David Mowat on trumpet
https://www.youtube.com/watch?v=LZF9I6cbbFw
Chloe Rose Laing
https://www.youtube.com/watch?v=HP2RGDsTbJg
Creation Sounds also at: https://creationsounds.bandcamp.com/
A limited number of tickets will be on sale for £15 or £12 or £10
Booking details to come. Subject to Temporary Event Notice being granted by Teignbridge District Council, and subject to changes caused by Covid-19-related government guidelines.