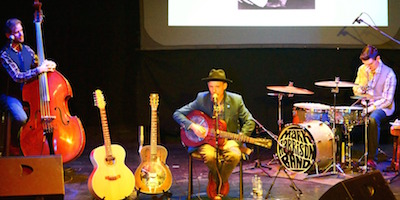 Date/Time
Friday 14 August 2020
6:00 pm - 10:00 pm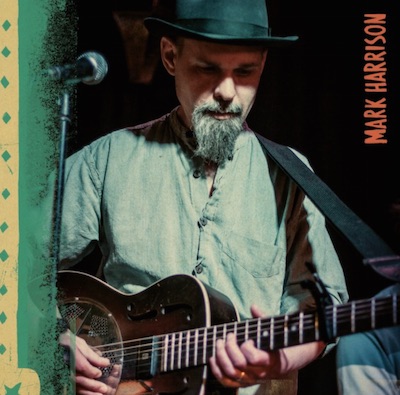 UPDATE: After heavy rain in Ashburton last night, everything is a bit wet underfoot. The current weather forecast (3pm) is 40% chance of rain at 5pm decreasing to 26% at 8pm and 19% at 10pm, so it's looking like possible showers, but nothing major. So it looks like the SHOW WILL HAPPEN – if you're coming, wear good shoes (muddy!) and bring a brolly if you like. It's going to be a warm evening, so a bit of rain shouldn't dampen things too much.
A few tickets still available at WeGotTickets.com/ashburtonarts .
Come to the Arts Centre between 6 – 7.30 to walk up to the field in groups. Bring a picnic and something waterproof to sit on. Chairs also available.
Singer-songwriter Mark Harrison combines with Charles Benfield on double bass and percussionist Ben Welburn to create wonderful early acoustic blues with folk influences. Modern lyrics, contagious energy and good humour provide a unique and highly enjoyable experience. Mark is an excellent and expressive vocalist and a tremendous resonator guitar player as well as being a terrific songwriter and entertainer.
This is an OUTDOOR event, for a socially-distanced audience. Ticket holders should arrive at the Arts Centre at 6pm, 6.15pm, 6.30 or 7.15pm to be led, on foot to the outdoor venue: it's a 10-12 minute walk to a lovely field – bring a picnic. Also bring a torch, as it will be dark coming back later. There'll be chairs provided in 1s, 2s, 3s etc, depending on the size of your group, about 1.5m apart. Or you can spread out on the ground, or your own picnic chairs on a small hill overlooking the stage.  Cash bar serving New Lion Pandit, Barnaby Lager, Ashridge Cider and good red, white and rose wine (waiter service, please bring plenty of £1 coins and fivers).
Tickets available now – please book online at wegottickets.com/ashburtonarts.
A limited number of tickets will be on sale for £15 or £12 or £10
The event will go ahead, subject to Temporary Event Notice being granted by Teignbridge District Council, and subject to changes caused by Covid-19-related government guidelines, and subject to decent weather (the current forecast is good). If it doesn't go ahead for any reason, ticket holders will have the choice of a refund, or to use the tickets for a rescheduled date.