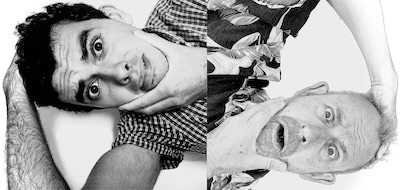 Date/Time
Saturday 29 April 2023
2:00 pm - 4:30 pm
Categories Theatre
Book here now: £15 full price • £10 or £7 if you prefer – please pay what you can*
Living Room Theatre presents THE WASHING MACHINE OF DESTINY
devised and performed by Luca Saunders and Philip Robinson
directed by Pippa Marriott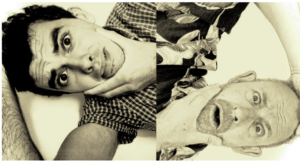 "What happens when two fellas on the autistic spectrum decide to pool their passions – music, technology, washing machines, mystery adventures, superheroes and magic – and make a play? The Washing Machine Of Destiny is what happens. Whether all one hundred and forty-two scenes will make it onto the stage is another matter, but we are going to be doing our absolute best to make it a splendidly entertaining experience for everyone.
"Luca is still a teenager, Philip is getting on a bit. Both are on the autistic spectrum. This show is a conglomeration of their bonkers ideas, perhaps like nothing you will have seen before. An eclectic mixture of music and characters and story and conversation and yet more music in a show that they have created together. Luca had the idea he wanted to make a play that could communicate some of the weird and wonderful and occasionally worrying things that zip through his brain at a hundred miles an hour and Philip was well up for that, adding in his own zippy things too. Pippa Marriott came in to do some directing."
Living Room Theatre was last here at Ashburton with Every Brilliant Thing and All Is Mended. Both were fantastically entertaining shows starring Philip Robinson, who also performed 'Krapp's Last Tape' here.
Here's a selection of audience feedback after The Washing Machine of Destiny premiere in Feb 2023, from both neuro-diverse and neuro-typical people:
"an uplifting tumble about human hope and happiness"
"Peppered through the show were tete-a-tete chats responding to questions about autism from the audience, centring two autistic experiences and always making it clear that no two, or four, or even hundred will be exactly alike."
"The play breaks myths about autism and gives rise to laughs at the same time with its honesty and rawness. The actors bare themselves with courage and grace. A triumph that uplifts the soul."
"It's a wonderful show, a delight to watch and an amazing way to invite neuro-typical people in the audience into the head space of two people with autism."
"I came away feeling as though I had been through a cerebral and emotional full colour-spectrum wash cycle. Vital, groundbreaking and inspirational."
"Luca is a young man who shines on stage and displays an innate sense of comic timing, and is no stranger to a well-placed facial expression, frequently eye-rolling and staring in wide-eyed panic at the latest antics of Philip. Quite unlike anything you are likely to see this year."
This is part of the Tinners Moon Festival 2023 at Ashburton Arts Centre, 15 West St, Ashburton, Devon, TQ13 7DT. This runs from 21 April – 8 May. For more information, go to ashburtonarts.org.uk.
==
This is part of the Tinners Moon Festival 2023. See ashburtonarts.org.uk/tinnersmoon2023 for more about all of the events. All tickets at wegottickets.com/tinnersmoon2023
Doors and bar open at 1.30pm
* We usually have three ticket prices – please pay what you can. If you can pay the full price, that's great. If choosing a cheaper ticket allows you to come to more things, then please do! Ticket receipts are split between the artists (it's usually their livelihood!) and the arts centre (keeps the place going). Except on the rare occasions when we have a sellout gig on our hands, it's always better to have someone here in the audience than an empty seat, so genuinely, please pay whatever you can.
See Access, Tickets & Finding Us for more about why there are three ticket prices, plus other useful info about coming to events at Ashburton Arts Centre: getting here, parking, loos, PA tickets, etc.