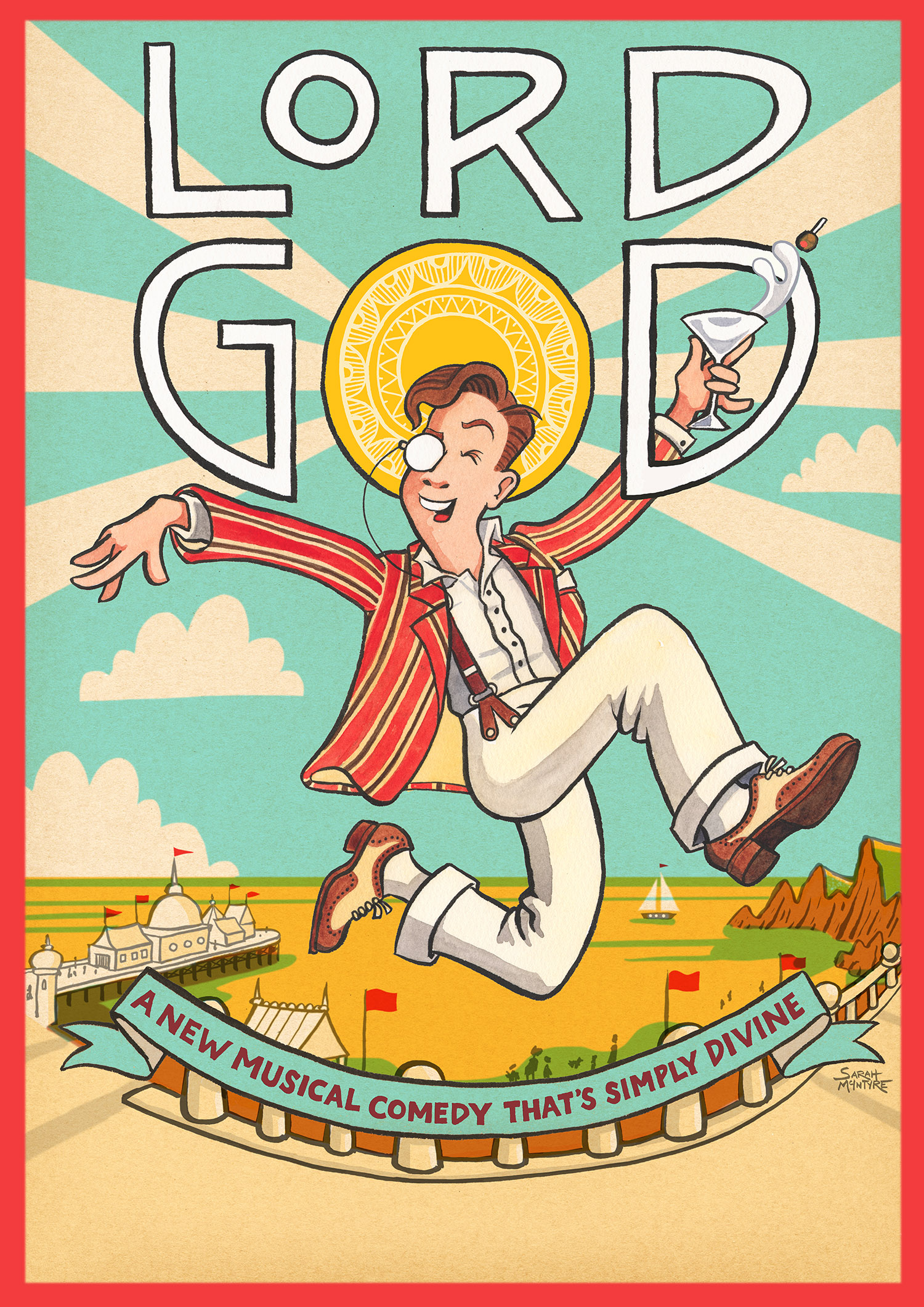 Date/Time
Saturday 26 June 2021
7:30 pm - 9:30 pm
Categories Performances, shows, and events
A musical comedy from the makers of Ministry of Biscuits.
2 performances: Sat 26 June at 7.30, and Sun 27th at 3pm.
From best-selling author Philip Reeve ('Mortal Engines') and playwright and composer Brian Mitchell ('Those Magnificent Men') – writers of The Ministry of Biscuits and Pugs of the Frozen North stage show.
When the Lord God is persuaded by His retainer and chief-cook-and-bottle-washer Gabriel to take an incognito holiday in a Devonshire seaside hotel (largely to get Him out from under His angels' feet), He looks forward to a fortnight of uninterrupted tennis, billiards, tea on the terrace and the latest Agatha Christie. But the presence of campaigning atheist Professor 'Minty' Tweddle and her fiance, notoriously hard-to-please theatre critic Rex Addison, upsets His plans and leads to all manner of supernatural scrapes, japes and narrow escapes and the invention of a hot new global dance craze.
Can our hero persuade Minty He really exists?
Can He solve the Problem of Evil before breakfast?
What exactly is Rex Addison up to?
Will Gabriel step in once more to save the Almighty's bacon?
Find out the answers to these questions and all the mysteries of Creation in the new musical comedy Lord God, from best-selling author Philip Reeve and award-winning playwright and composer Brian Mitchell, whose previous collaborations include the recent sell-out stage adaptation of Pugs of the Frozen North and the acclaimed musical comedy The Ministry of Biscuits. Building on their reputation for thought-provoking comedy, Lord God takes a timely look at morality, faith, and why sometimes it is best not to take things too seriously.
With a top-notch cast including comedian Joanna Neary (BBC2's 'Ideal') and Ian Shaw ('The Shark is Broken'), Lord God promises a night of witty lyrics, toe-tapping tunes and thoughtful frivolity.
"A clever jolly romp with a satirical edge – unlike anything else around. Charmingly old fashioned, and courageous for being so. I enjoyed it immensely." – Musical Theatre Review on The Ministry of Biscuits
"What an absolutely ripping wheeze…a top-hole musical comedy without a trace of Lloyd Webber anywhere…a highly entertaining, clever show, packed with neat one liners…a festival gem." – The Stage on The Ministry of Biscuits
"A thoroughly satisfying and timeless tale…a wise and witty, full-bodied show… This fifty-one-year-old loved every minute, and his fifteen-year-old son loved it as well." – FringeReview on The Ministry of Biscuits
Pandemic policies. This information will be updated as things change.
Update: April 2022
Face masks: In the Main Hall, on the ground floor, these are recommended at all times, but are optional. Anyone who sits upstairs in the balcony MUST wear a face mask – with NO exceptions (not even those who are exempt). This is to allow people who are clinically vulnerable to have a place to sit where seats are naturally separated, so: (a) to provide a place for people who want to be as distanced as possible from others, and with anyone nearby wearing a mask; (b) as virus particles when airborne are generally heavier than air, this helps to mitigate the risk of transmission from people sitting in the balcony to audience members below.
The windows and doors of the venue will be open, allowing fresh air to be constantly moving through. Although we have heating, this might mean that the ambient temperature is a little cooler than some might like, and audience members should dress accordingly.
Please, if you can, take a Lateral Flow test before coming to the Arts Centre, and if this is positive, don't come. These tests aim to pick up anyone who is infectious at the moment of testing, so please take the test as late as possible on the same day before coming to the Arts Centre. If you test positive, a refund or transfer of your ticket to another event can be arranged, if you let us know before the start of the event, by emailing boxoffice@ashburtonarts.org.uk.