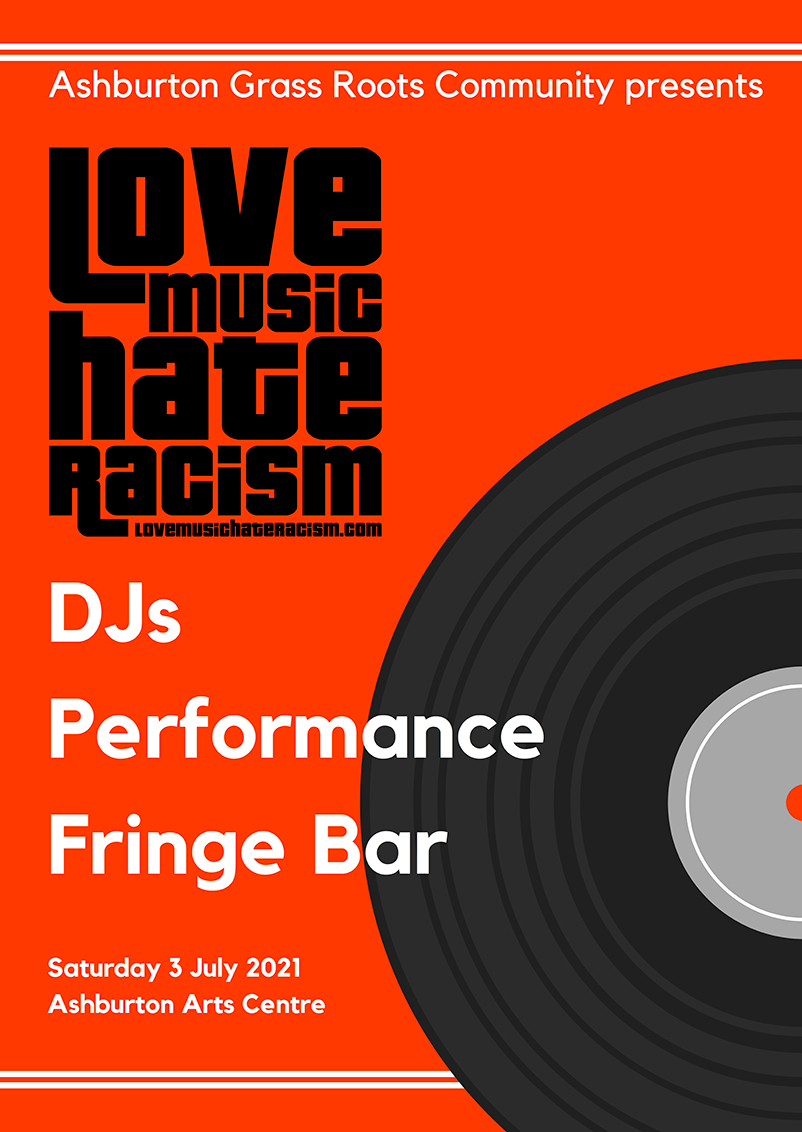 Date/Time
Saturday 3 July 2021
7:00 pm - 11:00 pm
Categories Music
Love Music Hate Racism – Bringing communities together through music
Love Music Hate Racism (LMHR) was set up in 2002 in response to rising levels of racism and electoral successes for the British National Party (BNP). LMHR celebrates the energy and vibrancy of the music scene to promote unity and celebrate diversity through education and events. Its message is simple, there is more that unites us than divides us; and nothing demonstrates this more than music. In the tradition of the Rock Against Racism (RAR) movement of the late 1970s, there have been now been many hundreds of LMHR events, from large outdoor festivals to local gigs and club nights.
LMHR is a nationwide grassroots campaign that relies on individuals and groups raising awareness and spreading positive messages in their local communities. The LMHR campaign has a renewed importance with the increase in islamophobia, anti-migrant racism and hostility towards refugees in Britain and across Europe. We think it is time to reignite our national movement against racism through music.
On 3 July 2021 the Ashburton grassroots community is coming together to celebrate diversity and inclusion. We are excited to have the following artists confirmed for Love Music Hate Racism Ashburton:
Mama Tokus • Arash Torabi • Jelly Jazz • Weird Dog – PLUS Fringe Bar line-up to be announced soon…
#LoveMusicHateRacismAshburton
Artists
Jelly Jazz (DJ): the grand-daddy of the funk and jazz scene in the South West of England. Running continuously for 26 years at various venues across the region and beyond. Specialising in dancefloor-rockin' funk, soul and jazz, spiced up with the best of nu-funk, breaks, beats, latin, drum & bass and whatever fits the Jelly Jazz vibe. It's genre un-specific, but totally funky.
Mama Tokus: Edifying, entertaining, funky & funny
Mama Tokus is a soulful blues, R&B and gospel-inspired performer from the Deep South West of the United Kingdom. She writes and sings her own compositions – bringing women's blues bang up to date for the 21st century. And she injects cheeky humour into her music, making her show memorable and funny for the audience, whilst harking back to sassy female performers like Dinah Washington and Josephine Baker. She is also a comic poet & MC, performing funny spoken word pieces covering womanhood, technology, language and, of course, music. She comes from the Thames Delta, and now lives close to the Tamar River Delta, but she's inspired by the Mississippi Delta. Expect a lesson in gospel, soul and blues delivered in Estuary English!
Arash Torabi (DJ): mod/punk/rock & roll/souldancehall/reggae/hip-hop/strictly vinyl. Former music journalist for Louder Than War and South West magazine 247, Arash has also played on records by cult British bands The June Brides, The Distractions and former Creation Records artiste Jim Shepherd (The Jasmine Minks). Arash also DJs for local community radio Phonic FM.
WeirdDog (DJ): bringing you the latest in deep, progressive house and techno.
Presented by the Ashburton grassroots community with Ashburton Arts Centre
Pandemic policies. This information will be updated as things change.
Sat 15 May: From Step 3 of the UK government's 'roadmap', which comes into force on Monday 17 May 2021, we are able to open to a public audience. For all events from 17 May, until further changes are announced:
The windows and doors of the venue will be open, allowing fresh air to be constantly moving through. This may mean that the ambient temperature is similar to outdoors, and audience members should dress accordingly.
All audiences will be seated in socially-distanced bubbles. Please stay seated as much as possible while inside the building.
Hand sanitiser will be available as well as soap and water in the toilets; please use these frequently.
Bar service at the Arts Centre is carried out by volunteers. If they are available at any event, they will take orders at your seat, and bring drinks to you.
All members of the audience must wear a facemask while indoors, except if medically exempt, or when eating or drinking. Our experience is that this is one of the things most important for making some (perhaps more vulnerable) members of the audience feel safe to attend concerts. Whatever your opinion of the efficacy of facemasks in preventing the spread of the virus, please help to reassure others, and showing that you're thinking of them, by complying with this.
There are posters inside the building showing the QR code that's connected to the NHS Track and Trace app – please use this. We will also keep a record of all ticket buyers for the required period, and pass this on to the NHS or Devon Public Health if requested.