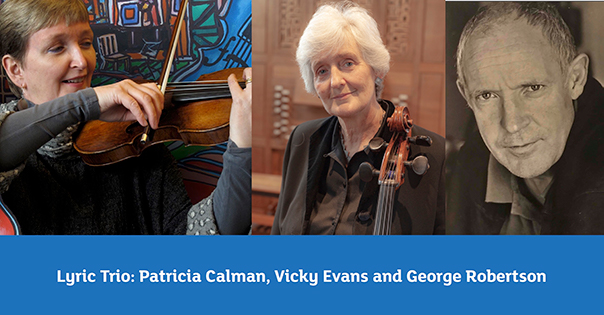 Date/Time
Saturday 29 May 2021
12:00 pm - 1:00 pm
Categories Music
£10/£8/£5 – Get your tickets here
Patricia Calnan  Violin
George Robertson Viola
Vicky Evans  Cello
We are delighted, and very lucky to be welcoming musicians with such amazing experience to Ashburton Arts Centre for this short chamber music concert.
The Lyric Trio has always really enjoyed the Baroque repertoire, Henry Purcell's music in particular. His Fantasias make a wonderful start to the programme with their gorgeously rich and diverse melodies which are passed round the group with fabulous crunchy chords as well!
Second in the programme is a beautiful Hungarian serenade by Zoltan Kodály. Kodály and his fellow Hungarian composer Béla Bartók were both involved in collecting traditional folk tunes which they used in their work. Kodály was also the creator of the Kodály Method – widely used today to teach music to young children.
Finally, the giant of giants, Johann Sebastian Bach. This will be the first performance in Devon of these wonderful arrangements of sonatas, written originally for organ and skilfully arranged for the Lyric Trio, by violinist Ben Cruft.
Trish Calnan writes: "We look forward to sweeping you away to a place of great beauty through wonderful harmonies and sounds which will transport you away from the humdrum of daily life. We moved to Devon from East Sussex a couple of years ago. I have always loved the sea and we have very happy memories of time spent in Teignmouth and Falmouth over the last decade and when our daughter left school we decided to up sticks and move down here. My sister bought the Browser Bookshop in Dartmouth and as I love books and people, I am very happily working for her part time, which makes a happy blend with playing chamber music with my husband George, who apart from being a fabulous viola player is also a painter and makes films.
"Our cellist is a longterm resident of Totnes and many of you will have heard Vicky playing in various ensembles. Vicky's Late husband, Michael (also a cellist) was a colleague of mine in the Academy of St Martin in the Fields for many years. It is very much our wish that we develop and bring the Lyric Trio to many of the venues in the locality, as music is a very special language that we all wish to share with you."
Patricia Calnan, violin
Patricia studied at the Royal Academy of Music with David Martin. The Winner of many scholarships and prizes, she was able to continue her studies firstly in Freiburg, Germany with Wolfgang Marschner, then later with Helen Airoff- Dowling in Switzerland and London. Helen remains to this day, the formative influence on Patricia's philosophy of teaching.
Early in her career, Patricia won the Mozart Memorial Prize and performed extensively both as leader of the Trio Zingara and as a soloist at the Royal Festival Hall, Barbican, Wigmore Hall, and Queen Elizabeth Hall, collaborating with many eminent conductors of the day.
Patricia led the Lyric Quartet to great critical acclaim following their debut recital, touring extensively with them in the UK and Europe. She toured worldwide with Sir Neville Marriner as a member of the Academy of St Martin in the Fields. Throughout her career she has broadcast regularly on Radio 3 and her discography include the Brahms Sonatas and works by Dohnanyi, Ross Edwards, Herbert Howells, Glazunov, Ginastera and Rimsky- Korsakov.

Married since1998 to the well known viola player, painter and Film-maker George Robertson, Patricia has focused since the birth of their daughter Emily in 1999 on teaching the Violin. Her style and methods have developed to incorporate her work as a teacher of the Alexander Technique, Meditation and Mindfulness as well as working with many young professional musicians.
George Robertson, viola
George Robertson was born in Scotland and studied the viola at the Royal College of Music, London. Early in his career he was a member of the BBC Symphony, Bath Festival and the Philharmonia Orchestras working with conductors, Klemperer, Menuhin, Boulez and Stravinsky as well as many others. Later, George was principal Viola in the Bergen Symphony and the Stockholm Radio Orchestra under Sergiu Celibidache.
For many years, George has been busy as principal viola in the session world in London, working with artists Oasis, Robbie Williams, Shirley Bassey, Elton John and Tom Jones to name a few. He has also played on many film sound tracks, working with composers such as Hans Zimmer, Jerry Goldsmith and Stephen Warbeck.

Nowadays George spends much of his time giving Chamber music concerts, making films as well as painting. George has painted for much of his life and has been strongly influenced by artists such as Graham Sutherland and fauvists painters, Andre Derain, Dufy and Matisse. George's vibrant colours and landscapes reflect the many differing influences throughout his life.
Vicky Evans, Cello
Vicky's early cello studies were at the Royal College of Music Junior Department with Antonia Butler and later at The Central Tutorial School for Young Musicians in London (the predecessor of the Purcell School). She continued her musical training at Dartington College of Arts with Michael Evans, cellist of the Dartington String Quartet. He became her husband and she spent many years bringing up their five children before resuming a busy career as a freelance musician, music lecturer, manager of several chamber ensembles and orchestras and director of Divertimento Entertainments.
As a chamber music player, she has performed with pianists Margaret Lynn & John Bryden, flautist Judith Hall, clarinettist Colin Parr, bassoonist Martin Gatt, violinists Mary Eade & Malcolm Latchem.
Doors open at 11:30. Start time midday.
Pandemic policies. This information will be updated as things change.
Sat 15 May: From Step 3 of the UK government's 'roadmap', which comes into force on Monday 17 May 2021, we are able to open to a public audience. For all events from 17 May, until further changes are announced:
The windows and doors of the venue will be open, allowing fresh air to be constantly moving through. This may mean that the ambient temperature is similar to outdoors, and audience members should dress accordingly.
All audiences will be seated in socially-distanced bubbles. Please stay seated as much as possible while inside the building.
Hand sanitiser will be available as well as soap and water in the toilets; please use these frequently.
Bar service at the Arts Centre is carried out by volunteers. If they are available at any event, they will take orders at your seat, and bring drinks to you.
All members of the audience must wear a facemask while indoors, except if medically exempt, or when eating or drinking. Our experience is that this is one of the things most important for making some (perhaps more vulnerable) members of the audience feel safe to attend concerts. Whatever your opinion of the efficacy of facemasks in preventing the spread of the virus, please help to reassure others, and showing that you're thinking of them, by complying with this.
There are posters inside the building showing the QR code that's connected to the NHS Track and Trace app – please use this. We will also keep a record of all ticket buyers for the required period, and pass this on to the NHS or Devon Public Health if requested.