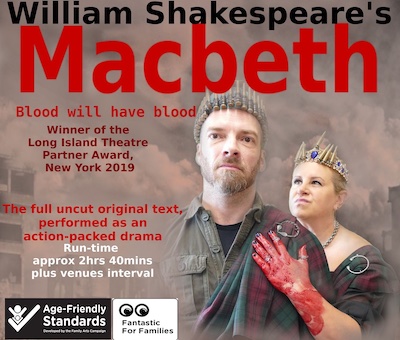 Date/Time
Friday 8 December 2023
7:00 pm - 10:00 pm
Categories Performances, shows, and events
Book here now: £15 full price • £11 or £7 if you prefer – please pay what you can*
Shakespeare's classic drama of ambition, power and fate, first thought to be performed in 1606, is now brought to life in a dramatic new adaptation performing the original text, set in a post-World War 3, near-future wasteland.
Performed by a professional cast of locally based actors this production will tour across South Devon, from November 2023, and well into 2024. Macbeth is one of Shakespeare's best known dramas, alongside King Lear, Orthello, Hamlet, and Romeo & Juliet. It tells the tale of a Scottish war hero, who, tempted by ambition, power and supernatural whisperings – and manipulated by his wife – begins a series of murders, to take and hold the throne. Returning home from war, Macbeth encounters three mysterious women, whose prophecy of kingship, sets in motion his ambition, and ultimately his fall into madness and blood..
This production design combines "the dark aftermath of a nuclear WW3, the exotic of the supernatural, and dramatic lighting, with immersive soundscapes to create Macbeth's world in a new vision of the drama."
The South Devon Players previously performed this show in 2019 on tour around the southwest, and streamed worldwide, winning theatre awards in New York.
Running time 2:40 plus a short interval, so should finish just before 10pm.
More information on the South Devon Players available at
southdevonplayers.com
facebook.com/sdevonplayers
* See Access, Tickets & Finding Us for more about why there are three ticket prices, plus other useful info about coming to events at Ashburton Arts Centre.