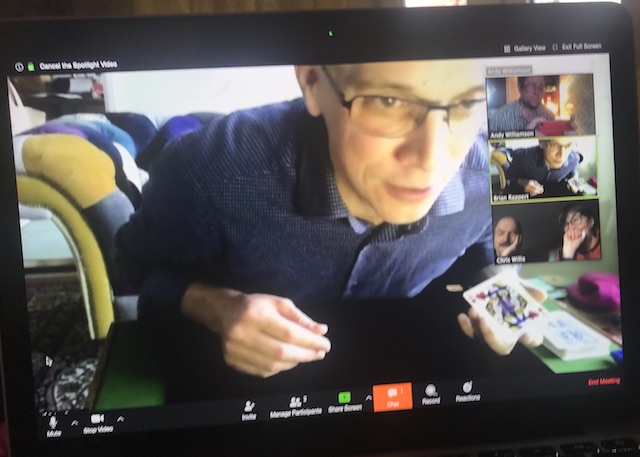 Date/Time
Sunday 12 April 2020
8:00 pm - 9:30 pm
Categories Performances, shows, and events
These are challenging times. How we communicate, how we look at one another, and how we make perceive our everyday surrounding are shifting from day to day. Join with Prof Brian Rappert in using magic as a method for reflecting our altered experiences. In this highly interactive, on-line event, some of the magic will take place in your very hands! And who doesn't need a bit more magic in their lives these days…
This is an online event, using Zoom. We've tried it out, and Zoom works really well for an intimate magic show like this. The minimum you need is a computer, or tablet that will run Zoom either as an app, or in a browser window. If it has a camera and microphone, then you'll be able to take part around the 'table' just as if you were in the same room. If you'd like to really take part, then you can create a real, or virtual background that matches the magical theme …
You'll need to have your own deck of 52 playing cards, preferably already sorted by suit'. Please 'arrive' at 7.45pm to meet each other before the show starts at 8pm.
Suggested age: 16 or over.
To book, please email boxoffice@ashburtonarts.org.uk and you'll receive:
(a) The Zoom meeting invitation
(b) Ways to pay a suggested donation of £5 or £8 or £10 for taking part. All ticket receipts will be donated to the Arts Centre.