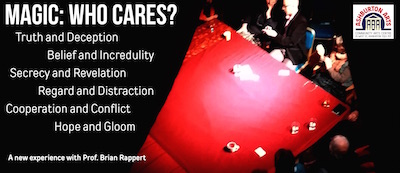 Date/Time
Sunday 9 August 2020
8:00 pm - 9:30 pm
Categories Performances, shows, and events
Truth and Deception                              Belief and Incredulity
Secrecy and Revelation                         Regard and Distraction
Cooperation and Conflict                        Hope and Gloom
Join Prof Brian Rappert in this highly interactive, online event that uses magic as a method for exploring how we act toward one another in everyday life, the workplace, politics and beyond.  We will ask how we can care for each other in these demanding times through the power of illusion.  Some of the bewitching will take place through your very hands!  The effects are all new, so feel free to join in the fun if you have been to one of Brian's previous sessions at the Centre.
This is an online event, using Zoom. We've tried it out, and Zoom works really well for an intimate magic show like this. The minimum you need is a computer, or tablet that will run Zoom either as an app, or in a browser window. If it has a camera and microphone, then you'll be able to take part around the 'table' just as if you were in the same room. If you'd like to really take part, then you can create a real, or virtual background that matches the magical theme …
You'll need to have your own deck of 52 playing cards, preferably already sorted by suit'. Please 'arrive' at 7.45pm to meet each other before the show starts at 8pm.
Brian Rappert isn't an ordinary magician, and this isn't your everyday magic performance. His day job is a Professor in the Sociology Department at Exeter University. His research takes place in police, security and diplomatic communities where questions of disclosure and concealment loom large – realms where you might say that deception on a large scale is going on. He was curious to learn about deception at a more intimate level, so has taught himself to become a very fine magician! In normal times, his performances take place around a table, with an audience of dozen or so. The tricks are interspersed with chat and discussion – so be prepared for that (and it means that it's not really a show for most children).
More about Brian Rappert here on the Exeter University site.
Suggested age: 16 or over.
To book, please email boxoffice@ashburtonarts.org.uk and you'll receive:
(a) The Zoom meeting invitation
(b) Ways to pay a suggested donation of £5 or £8 or £10 for taking part. All ticket receipts will be donated to the Arts Centre.