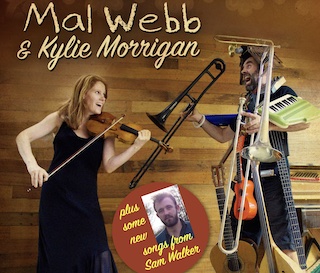 Date/Time
Tuesday 1 August 2023
7:30 pm - 10:00 pm
Categories Music
Book here now: £15 full price • £10 or £7 if you prefer – please pay what you can*
Vocal adventurer, multi-instrumentalist and looping beatboxing songwriter Mal sings his brain-provoking songs using all sorts of vocal techniques, guitar, mbira, slide trumpet, trombone, chromatic harmonica and a loop recording pedal called Derek. And Kylie (who's played with Orchestra Victoria and the likes of Stevie Wonder and Barry White!) provides violin and voice in a perfect balance to Mal's nutsness. Their arrangements are intricate and playful. Imagine Einstein, Dr Seuss and Paganini making pancakes.
In the afternoon at 2pm, Mal Web is giving a workshop in vocals, beatboxing and beyond. This looks like a rare chance to learn more about using your voice in ways you might never have expected. Tickets for this are here: http://wegottickets.com/event/588978/
* See Access, Tickets & Finding Us for more about why there are three ticket prices, plus other useful info about coming to events at Ashburton Arts Centre.