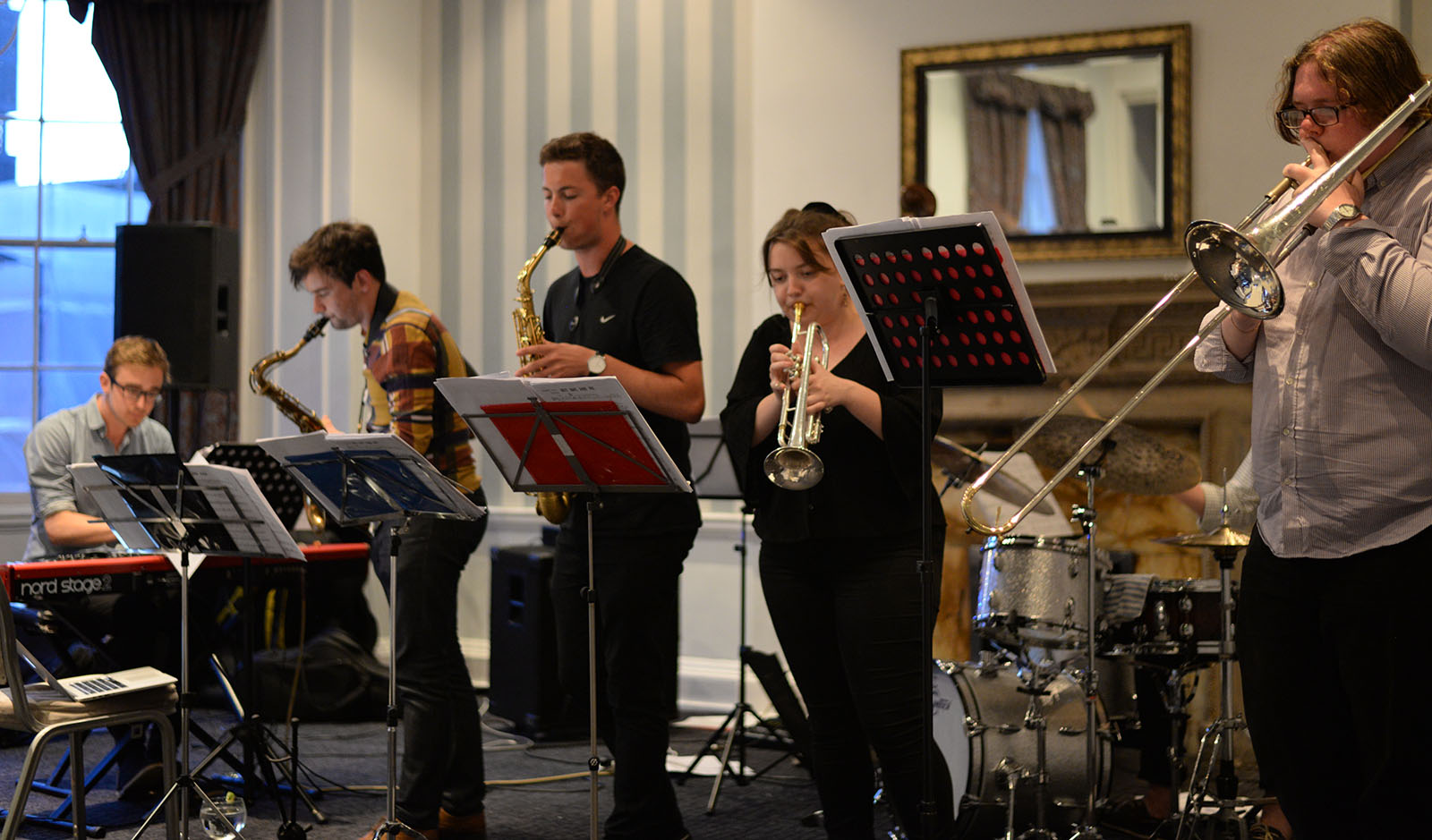 Date/Time
Monday 12 August 2019
7:30 pm - 10:00 pm
Categories Jazz
Matt Carter is a gifted jazz pianist who was already making a name for himself on the professional music scene in the South West when he decided to move to London to study at the Royal Academy of Music. He's brought together a band of similar young players from the current London scene. This looks like a chance to see some of the jazz stars of the future – they're already superb, and will sound great in the Arts Centre.
Andy Williamson, Ashburton Live
Matt Carter – Piano
Joe Lee – Bass
Luca Caruso – Drums
Alex Ridout – Trumpet
Harry Greene – Tenor Sax
Jonny Ford – Alto Sax
Harry Maund – Trombone
See https://mattcartermusic.co.uk/matt-carter-septet-quartet/
The Matt Carter Septet is made up of musicians studying on the jazz courses at The Royal Academy of Music, and at The Guildhall School of Music and Drama. The band focuses on arrangements of classic swinging American Songbook songs, arranged by Matt for the band. They also play some original compositions, some of which are more groove based, taking influences from genres such as gospel and funk.
Matt was brought up in Exeter, and performed mainly around the South West until September 2017, when he moved to London to start studying jazz at The Royal Academy of Music. It was there that he met most of the rest of the band, and formed the group within a year. The band is made up of some of the finest young jazz musicians on the scene today, so catch them while you can.
£13 or £10 or £6 — you choose! (All the same unreserved seats)
Tickets in advance from wegottickets.com/ashburtonarts (10% booking fee added) or in person from Rafikis (next door to the Arts Centre), Ashburton Information Centre and on the door.
To reserve a ticket, email boxoffice@ashburtonarts.org.uk or leave a message on 01364 652781
Doors and bar open at 7pm
Accessibility: Venue has flat access from street. PA tickets available on request. Wheelchair users, please get in touch with the box office in advance if possible.
"One of the best small UK music venues" The Guardian