Date/Time
Friday 7 July 2023
7:30 pm
Categories Music
Book here now: £13 full price • £10 or £7 if you prefer – please pay what you can*
Entertainment evening about all things menopause, with comedy, poetry and song, aimed at all ages and genders. This is part of Stories for Change campaign "Menopause – the New Story", raising awareness and starting a conversation.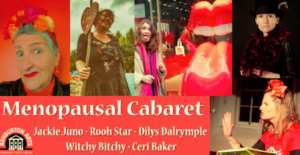 Jackie Juno: Stand-up Poetry Queen of Bitchin' Doggerel. Rhyming ranter. Ranting rhymer. Jackie is so painfully hip that she needs a new one.
Ceri Baker is an eclectic mash up of rhythmic frames to life's poetic eruption. Coming from a 'fuck it' place following life changing medical trauma, she stitches feminist rage into body autonomy glee and procreative recovery. Mixing humour, anecdote and moving autobiographical content, she carefully regifts relatable stories allowing us to breathe out, where we might have been holding in.
Rooh Star: Songs and truth speaking from menopausal hedge-witch.
Suzy Williamson, AKA Dilys Dalrymple: Lady-clown and stand-up brings her risqué exposé of the intimate indignities and titillating triumphs of our hormonal surges at mid life.
Agata Krajewska, AKA Witchy Bitchy: Autobiographical storytelling meets stand-up comedy, meets hormonal education, useful and entertaining for anyone in a vicinity of any menopausal beings.
Doors open at 7pm
* See Access, Tickets & Finding Us for more about why there are three ticket prices, plus other useful info about coming to events at Ashburton Arts Centre.