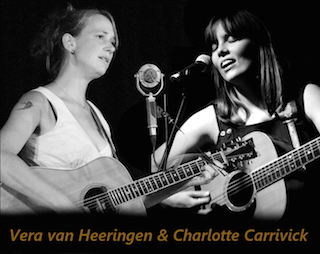 Date/Time
Saturday 23 October 2021
7:30 pm - 10:00 pm
Categories Music
Online sales now closed, some tickets available on the door – £13 or £10 or £6  you choose
Update, Friday 22 October
As of this morning (Friday 22 Oct), the Midnight Skyracer concert was sold out.
This morning, Laura Carravick called me with the bad news that for a different reasons, 3 of the 5 members of Midnight Skyracer are unable to be with us tomorrow. I can't go into details, but the reasons are genuine, and have my sympathy. However, the remaining two, her sister Charlotte Carrivick and Vera van Heeringen are still able and very keen to be with us, and will, I believe, put on a great show. More about them below.
All current ticket holders have been emailed (from tickets@wegottickets.com) with this info, and an offer of a full refund, or to come and ask for a partial refund if desired.
If there are cancellations, then tickets will become available here for Charlotte Carrivick & Vera van Heeringen (at the original prices). Alternatively, email boxoffice@ashburtonarts.org.uk if you'd like to be put on the reserve list, including your phone number.
Andy Williamson
Arts Director, Ashburton Arts Centre
Charlotte Carrivick & Vera van Heeringen
charlottecarrivick.co.uk & veravanheeringen.com
A rare opportunity to see two virtuosic flatpicking guitarists performing together: Charlotte Carrivick (guitar, banjo, mandolin, vocals) & Vera van Heeringen (guitar, mandolin, fiddle, vocals)
Charlotte Carrivick is among Europe's highest regarded flatpicking guitarists. Her popular #flatpickoftheweek video series, showcasing her fluid and inventive arrangements, boasts some of the most respected exponents of bluegrass guitar as fans.
As a multi instrumentalist, singer, songwriter and composer Charlotte performs internationally with Island Records signed, IBMA award nominated bluegrass band Midnight Skyracer as well as The Carrivick Sisters, Cardboard Fox and in a duo with fiddler Kieran Towers.
"formidable multi-instrumental skills" Q Magazine
"Charlotte's guitar playing is simply breathtaking" Americana UK
It's unusual to find someone who's as good a songwriter as an instrumentalist. Vera van Heeringen is that person. A consummate guitarist, highly acclaimed by her contemporaries, she brings the instrument to life in way that is entirely her own. Vera also writes songs and tunes which deliver straight to – and from – the heart. Firmly rooted in Transatlantic traditions, her original contemporary Folk/Americana showcases both these skills: firebrand instrumental virtuosity and poignant, emotionally astute songwriting.
A compelling performer, Vera conveys an easy warmth on stage. Her live performances are intimate, understated affairs, allowing the music to speak for itself. Stripped back, potent, and full of groove. Outstanding flatpicking, heart-breaking lyrics, assured natural vocal tone and driving tunes are all integral to the show.
"Her graceful playing is of the kind of a good malt, it tends to seep into ones soul, gently" Maurice Hope, Flying Shoes
====
Midnight Skyracer
Since forming in 2017, the Anglo-Irish quintet have played at festivals across the UK, Europe and Australasia, toured regularly at home and released a critically-lauded debut album. They also carry the distinction of being the first British act nominated for an award by the International Bluegrass Music Association. The band's first appearance at Ashburton Arts Centre in April 2019 was a packed house who went home very happy indeed – so book early for this one!
Their all star lineup boasts Leanne Thorose, with her powerhouse vocals and driving mandolin; the virtuoso banjo playing and delicate vocals of Tabitha Benedict; Eleanor Wilkie and her rock solid bass grooves; the versatile Laura Carrivick, equally adept on both fiddle and dobro; and the lightning guitar playing of Charlotte Carrivick. Not only are they all masters of their respective instruments, but the vocal harmonies shared between the five women are second to none.
Following the release of Fire in February 2018, the band released their follow up album in June 2020 on Island Records. Shadows On the Moon, recorded at Peter Gabriel's Real World Studios in Wiltshire, is a scintillating mix of hard-driven bluegrass and mountain balladry, both edgy and infectious, tender and tough.
"…there's a sassy sense of fun and an ear for a pure pop hook amid the hard driven bluegrass and mountain balladry that can't help reminding you of Alison Krauss & Union Station" – **** Songlines
"…these varied aspects of their musical personalities contribute to the greater good of a band playing for the song, for the singer, for the music." ~ Ron Block of Alison Krauss & Union Station
"This is a band and this is an album that can go toe to toe with anything on offer from bluegrass's spiritual home on the other side of the Atlantic." **** RnR Magazine
"A conflagration of a debut bluegrass album: hot stuff" **** ~ Songlines
"…probably the best bluegrass I have heard from a non-American band." fRoots
"'Fire' combines seven self-penned pieces, traditional and bluegrass classics – tradition and contemporary working hand in hand and no sign of a join, and it's seriously good. Harmonies to die for, delicious voices and succulent instrumentation." FolkWords
"you can't fail to sit there open-mouthed at the astounding dexterity of the playing, which is brilliant even by championship-standard bluegrass standards – for there's sensitivity in shading and dynamic balance too alongside and inside the high-octane note-spinning virtuosity." Folk Radio UK
​"Midnight Skyracer has all the vital components to compete with other bluegrass outfits not only in the UK but also on an international scale." Northern Sky
Pandemic policies. This information will be updated as things change.
Update: April 2022
Face masks: In the Main Hall, on the ground floor, these are recommended at all times, but are optional. Anyone who sits upstairs in the balcony MUST wear a face mask – with NO exceptions (not even those who are exempt). This is to allow people who are clinically vulnerable to have a place to sit where seats are naturally separated, so: (a) to provide a place for people who want to be as distanced as possible from others, and with anyone nearby wearing a mask; (b) as virus particles when airborne are generally heavier than air, this helps to mitigate the risk of transmission from people sitting in the balcony to audience members below.
The windows and doors of the venue will be open, allowing fresh air to be constantly moving through. Although we have heating, this might mean that the ambient temperature is a little cooler than some might like, and audience members should dress accordingly.
Please, if you can, take a Lateral Flow test before coming to the Arts Centre, and if this is positive, don't come. These tests aim to pick up anyone who is infectious at the moment of testing, so please take the test as late as possible on the same day before coming to the Arts Centre. If you test positive, a refund or transfer of your ticket to another event can be arranged, if you let us know before the start of the event, by emailing boxoffice@ashburtonarts.org.uk.