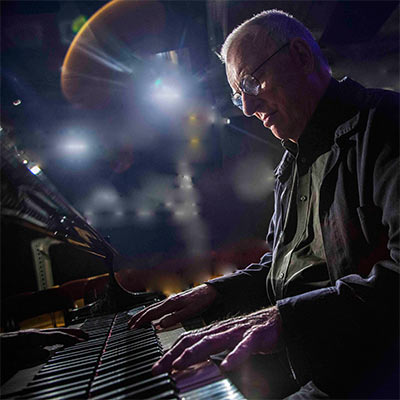 Date/Time
Monday 6 March 2023
7:30 pm - 10:00 pm
Categories Jazz
Book here now: £15 full price • £11 or £7 if you prefer – please pay what you can*
Here's something rather special. It's our great joy, honour and privilege to welcome to our stage, one of the UK's musical legends, who was playing jazz in London's clubs in the 1960s and is still creating new music, which is as good and original as ever, in several guises.
Internationally acclaimed as "one of the UK's most creative, experimental and daring jazz composers" (The Times), Mike Westbrook improvises on themes from his musical history. In this rare solo performance, remembered show tunes, pop songs and jazz classics are interwoven with originals from the Kate and Mike Westbrook Song Book.
Andy Robson, reviewing the album Starcross Bridge wrote "Chords, Messiaen-like, hover and decay, melodies elide and fall: some songs are vividly deconstructed like Lennon/McCartney's Because, some split apart before us like the extraordinary take on Strayhorn's Johnny Come Lately. And beneath it all, the blues, as on For Terenzi, roll and tumble." Jazzwise
"Westbrook's playing is intimate, restrained, reflective, and deceptively simple, moulding disparate sources into a beautiful and beguiling whole"
Barry Witherden, BBC Music Magazine
"I find those probing, exploratory chords so engaging, and the segues and juxtapositions really intriguing, gently dismantling so many barriers."
Martin King, WestbrookJazz Notice Board
"I loved the sense of a man playing these pieces for the thousandth time but still searching for new angles, new shapes, and new combinations of notes with which to deepen his investigation of their wordless essence. There was not a wasted note, not a superfluous gesture, not the tiniest hint of display for its own sake."
Richard Williams, The Blue Moment
"Westbrook's style is an engaging mixture of warmth and dissonance, spiced by a touch of honky-tonk. With its constantly changing moods and familiar melodies cunningly revealed, an hour's music seems to pass in half the time."
Dave Gelly, The Observer
"An hour of solo piano that is fresh, rich and improvised, yet references a myriad of the master's many previous musical lives. Westbrook nests together his loves, heroes and inspirations, the man and his music, the music and the man, as one."
Andy Robson, Jazzwise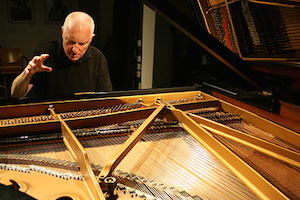 In a musical career spanning over fifty years Mike Westbrook has written for, toured and recorded with a great variety of ensembles, from Trio to Jazz Orchestra. His compositions for voice, many written in collaboration with his wife, vocalist/librettist Kate Westbrook, range from cabaret songs to opera. They include large-scale orchestral works combining jazz and classical ensembles and settings of European poetry, as in The Cortège, and his latest album London Bridge Live in Zurich. Current projects include Kate Westbrook's Granite Band; the WestbrookTrio+2, celebrating the 40th anniversary of the Trio with Kate and Chris Biscoe. As well as The Westbrook Blake, settings of the poetry of William Blake; performances with his West Country-based big band The Uncommon Orchestra of his much loved Ellington tribute On Duke's Birthday and a revival of the popular Big Band Rossini, variations on themes from the operas of Gioacchino Rossini, the first jazz work ever to feature in the BBC Proms and recently played to great acclaim in Rossini's home towns of Pesaro and Lugo.
Mike celebrated his 85th birthday in 2021. There are quotes above from reviews of his work. For something more personal, take a look at these birthday greetings from fellow musicians and others who've shared an amazing journey in music around the world with someone who is still a formidable presence in our world.
"Whether he is writing for a trio or a 20 piece orchestra, Westbrook's style is unmistakable. He combines instruments in unique ways, twists conventional jazz forms into surprising new shapes and seasons it all with delicate touches of humour and irony."
Dave Gelly, The Observer
* See Access, Tickets & Finding Us for more about why there are three ticket prices, plus other useful info about coming to events at Ashburton Arts Centre.