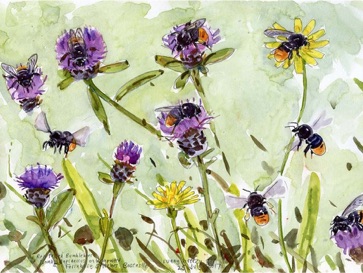 Date/Time
Saturday 14 September 2019
7:30 pm - 9:30 pm
Categories Talk
Entry free: This event is now fully booked. In the nature of free events, there may be some no shows. If you turn up on Saturday, and wait until all the booked seats are taken, if there's space, you'll be welcomed in.
Two inspiring talks by naturalists Brigit Strawbridge Howard and John Walters
Did you know that some solitary nesting bees lay their eggs in empty snail shells? Or that cuckoo bees make other bees take care of their eggs? Or that certain wasps are potters and craft urns?
Brigit Strawbridge Howard, bee advocate and wildlife gardener, has written a new book:
Dancing with Bees: a journey back to nature.
It's beautifully illustrated by renowned Dartmoor naturalist and wildlife illustrator John Walters.
Come to both these fascinating talks at Ashburton Arts Centre on 14 September at 7.30pm to learn about the secret world of wild bees and other pollinators and discover where you can look for them.
FREE ENTRY • START 7.30PM • EACH TALK 45 MINS • INTERVAL • FINISHES BY 9.30PM
BOOKING REQUIRED • RESERVE A PLACE NOW
Signed copies of the new book will be available for sale on the night.
Reviews of the book and more information at moormeadows.org.uk/…