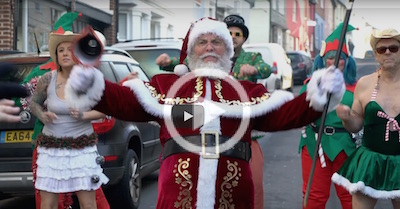 Date/Time
Thursday 17 December 2020
6:00 pm - 7:00 pm
Categories Community Event
Book tickets here now for all three shows. Just £1 each (plus 10p booking fee).
A small dog from Ashburton called Mr Pickles had a very vivid Christmas dream. He has turned it into a magical musical film and song for all to share called "You Just Can't Frighten Christmas Away"
And it has been shared a lot around the virtual place.  Mr Pickles acknowledges the help of some incredibly magical beings including the Man HimsElf Santa! (and local creatives).
Mr Pickles invites you to attend a very special socially-distanced and 'covid-secure' screening of the film plus extras, outtakes and surprises.
Children's Screening 4.30pm
General Screening 6pm and 6.30pm
Accompanied by festive and warming drinks including Mulled wine and Mulled Apple.
All proceeds from this endeavour will go to the Ashburton Christmas fund for local Tree Planting and Food banks.
To come to this public screening (limited audience due to Tier 2 restrictions) buy a ticket for £1 or £3 or £5 – you choose, it all goes to the Ashburton Christmas Fund (except the 10% booking fee, which gets added by WeGotTickets, and they're very good, so we're happy with that).
Film and song is here on YouTube
More donations can be made here.