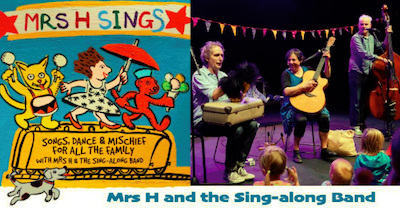 Date/Time
Friday 9 June 2023
4:30 pm - 5:30 pm
Categories Music
Book here now: £10 full price • £8 or £5 if you prefer – please pay what you can*
Mrs H and the Sing-along Band bring their unique and infectious blend of family music to Ashburton for the first time. Their aim is provide quality music for children, that adults will love too. Bringing together elements of folk, soul, afro, latin, dub, comedy and theatre this unique band gives the 'sing-along' with a new lease of life for all the family to join in.
Headed up by Mrs H on lead vocals and guitar, the all star trio includes members of Red snapper, Emily Barker and The Red Clay Halo, Beth Orton's band and The Leisure Society.
Bring your voices, silly dances, a sprinkling of mischief and don't hold back from joining in the fun!
As with everything at Ashburton Arts Centre, there are three ticket prices to choose from – you can decide which to buy for you and your children. If there's a lot of you and buying tickets in this way still means that it costs too much, please email boxoffice@ashburtonarts.org.uk and we can sort something out.
===
Mrs H and the Sing-along Band is a part of a larger collective of professional musicians united by the passion of bringing quality music to children and their families, music for all the family.
Founded in 2015, the band is made up of members from Red Snapper, Beth Orton, The Leisure Society, Imagined Village and Emily Barker including Ali Friend, Gill Sandell and Ted Barnes. Much praised for their joyful, euphoric performances the band is all about participation. Part music, part theatre and comedy, there really is no one else around doing what they do. Alongside their regular weekly gigs in London the band have toured and performed extensively, including venues and festivals such as Latitude, Beautiful Days, Camp Bestival, High Tide, National Theatre, Barbican, the Quarterhouse and sold out shows at The Union Chapel, London.
In 2018, supported by Arts Council England and Waltham Forest Council, they developed their intergenerational project 'All Together Now', bringing young families and older generations together through music. They have made four albums/ books and are featured on the hugely successful YOTO product range.
Doors open at 4pm
* See Access, Tickets & Finding Us for more about why there are three ticket prices, plus other useful info about coming to events at Ashburton Arts Centre.