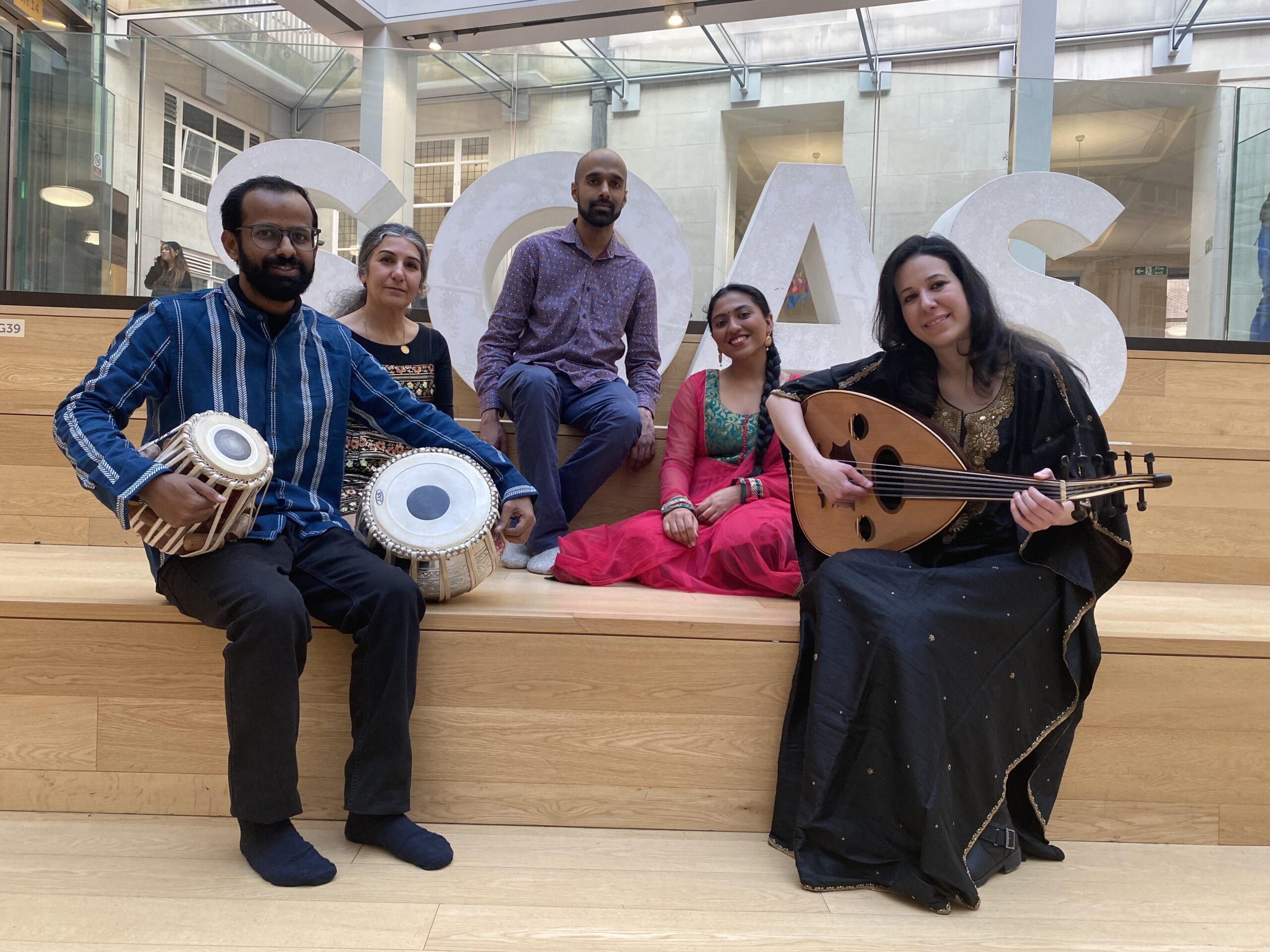 Date/Time
Friday 5 May 2023
7:30 pm - 10:00 pm
Categories Music
Book here now: £15 full price • £10 or £7 if you prefer – please pay what you can*
Samar has captivated the audience here with her Arabic singing before. Via her links with soas.ac.uk she has brought together an amazing group of London-based singers and musicians from Indian (Hindustani and Carnatic) and Iraqi traditions for a varied night of song, oud and tabla performances: Vishnu Vijayan, Aarthi Ravichandran, Achintya Prahlad, Ruba Hillawi plus Russell Harris.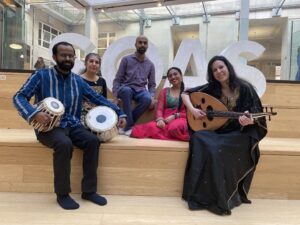 About the musicians:
Vishnu Vijayan: Vishnu has been playing tabla and Hindustani classical music for most of his life. He plays different percussion instruments and beatboxing, and has collaborated with fusion bands and musicians across India and in London.
Aarthi Ravichandran: Aarthi is a classical Indian Carnatic singer. Aarthi has been singing since childhood. She is a seasoned performer having performed in India, Europe and the US.
Achintya Prahlad: Achintya is an Indian Hindustani singer, composer and lyricist. He also sings other Indian genres, and has given several performances and lecture-demonstrations in India, Germany and the UK.
Ruba Hillawi: Ruba is an Iraqi oud musician. She is particularly interested in playing the the Iraqi maqam genre. Ruba teaches the oud at the Taqasim Music School, London.
Samar Zeki: Samar comes originally from Iraq. She sings in Arabic and is interested in singing Andalusian Muwashahat. Samar performed at Ashburton Arts Centre in 2022.
Russell Harris: Russell has been involved with performance of middle eastern music since the mid 1980s. He has studied music with teachers in Turkey and other middle eastern countries, and is a member of the Trio Baklava, among many others. In this concert he'll be playing oud.
==
This is part of the Tinners Moon Festival 2023. See ashburtonarts.org.uk/tinnersmoon2023 for more about all of the events. All tickets at wegottickets.com/tinnersmoon2023
* We usually have three ticket prices – please pay what you can. If you can pay the full price, that's great. If choosing a cheaper ticket allows you to come to more things, then please do! Ticket receipts are split between the artists (it's usually their livelihood!) and the arts centre (keeps the place going). Except on the rare occasions when we have a sellout gig on our hands, it's always better to have someone here in the audience than an empty seat, so genuinely, please pay whatever you can.
See Access, Tickets & Finding Us for more about why there are three ticket prices, plus other useful info about coming to events at Ashburton Arts Centre: getting here, parking, loos, PA tickets, etc.