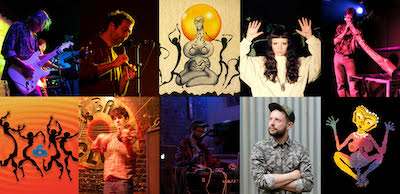 Date/Time
Sunday 31 December 2023 - Monday 1 January 2024
8:00 pm - 1:00 am
Categories Music
Book here now: £20 full price • £16 or £12 if you need cheaper (while they last) – please pay what you can*
The band Global has been a festival favourite since 1992 with its powerful dance music, live instruments and wildly energetic vocals. Their shamanic-trance-techno has been at Glastonbury Festival, WOMAD and Cirque Du Soleil.
Global Collective is Nigel Shaw (keyboards & flutes), Brian Abbott (guitar), Bethan Lloyd (vocals), Shaun Farrenden (didjeridu), IsaacRay (synths), Jody White (percussion) with very special guests.
Support from Bethan Lloyd, Prehuman and DJs
Prehuman creates dense occult-tinged vocal layers intersecting chopped up hardware noise and overdriven bass lines with a cascade of sampled drummers and distorted drum machines.
Bethan will also perform some solo vocal tracks from her new album.
Our New Year DJs will keep the music flowing until late!
Bar • Pizza • Bring your dancing feral feet on Sunday 31 December
to Ashburton Arts Centre 15 West St TQ13 7DT
£20 full price • £16 or £12 if you need cheaper: limited – when they're gone, they're gone!
8pm until 1am
* See Access, Tickets & Finding Us for more about why there are three ticket prices, plus other useful info about coming to events at Ashburton Arts Centre.