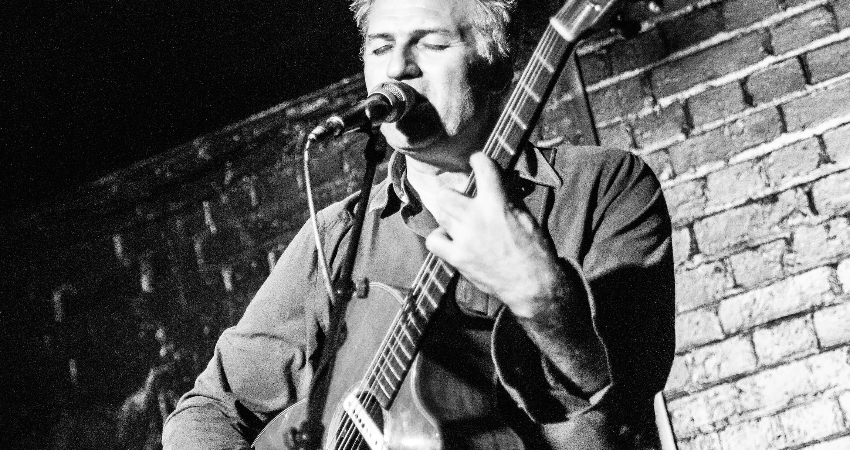 Date/Time
Sunday 26 September 2021
7:30 pm - 10:00 pm
Categories Music
Nick Harper is one the UK's best kept musical secrets. Those who have witnessed the spellbinding, one-man show will tell you this. A childhood growing up surrounded by the musical prowess of some of the 60's most revered songwriters & musicians, not to mention being son of Roy Harper, along with 20 years of crafting songs & touring the land has spawned a truly one-off, original guitarist & songwriter who stands alone as a UK great, to be cherished & revered.

For over two decades, he has been dazzling audiences, reviewers & fellow artists alike with his heady mix of virtuosity, boyish charm, showmanship & sheer bravado. An imagination bursting with ideas has seen Nick release 11 solo albums to critical acclaim, earning a Number 1 spot in the charts with the seminal hit 'Blue Sky Thinking'.

"Harper has so much musicianship in him it just leaks out all over the place." The Times
"He deserves to become a major figure in his own right" The Guardian
"Dylan for the iPod generation…Betjemen with a guitar." Guitarist
"My musical discovery of 2016!" Tom Robinson, BBC 6 Music
"One of the finest guitarists of his generation" Mojo
"Acoustic Hendrix!" Guitar Magazine
"Hey, the boy is good!" Robert Plant
"That boy is too good." Bert Jansch
In 2017, Nick recorded his full band album Lies! Lies! Lies! with legendary producer Tchad Blake at Studio La Fabrique, South France (studio of choice for Nick Cave, Morrissey & Radiohead). The album received strong support from BBC 6 Music coupled with Nick & band being greeted by rapturous, capacity crowds on the tour that followed.
Early 2018 saw Nick return to the live circuit with a newly formed solo set featuring quadraphonic sound & re-imaginations of songs pre-chosen, by request, by Nick's fan base. The '100 Things' tour proved to be a hugely successful return to the stage with all but a handful of shows selling out.
2018 also saw Nick Harper perform his first spoken word piece, A Wiltshire Tale, at some of UK's most prestigious venues. It is a journey through Wiltshire's (where Nick later grew up) history, landscape & wildlife. Depicted through the voices of three characters, this one-man show bears witness to this most magical of counties in spoken word, poetry & live music.

2019 Nick embraced his legacy and extensively toured the UK with the award-winning show, 58 Fordwych Road. It centred around a living room in a small flat in Kilburn, London in the mid 1960s. Then the abode of up-and-coming singer-songwriter Roy Harper & his wife Mocy. The flat was an after hours hang-out for the legends who played at Les Cousins in Soho at the height of the acoustic explosion in swingin' sixties London. People like Bert Jansch, Davy Graham, John Renbourn, Paul Simon, Marc Bolan, Sandy Denny & others dropped in, to drop out, jam & try new tunes. But, all along, there was someone else there… a toddler, part of the family, inhaling the music & absorbing the vibe; Roy's young son, Nick Harper. This heart-warming show that saw Nick play renditions of the greats' masterpieces and was a rare opportunity for fans to hear Nick perform his father's material –– needless to say it was fiercely endorsed by his fans.

As 2020 got about its reckless mischief and with a year of gigs postponed, Nick retreated to the studio. The resulting album couldn't have been more of a great escape in every way…
Phantastes inhabits an ethereal dream realm that explores the parallels of the seminal fantasy novel of the same name by George MacDonald and the beginnings of Nick's own love story from 1982. Totally divorced from 2020 in time and space, the album has been enthusiastically supported by fans seeking a temporary refuge from the here and now. Continuing his recent predilection for the spoken word, Nick cemented the bond between his music and the aforementioned book by recording an audiobook of Phantastes, with musical interpretations of George MacDonald's poems and songs contained therein.

The Autumn 2020 tour was to have been focussed on the album, but events in the wider world have convinced Nick that now is not the time to drill deep into a particular fantasy, but to celebrate the sheer joy of being in a room again with friends and fans after such a long break…
So the 'Aaand.. We're Back In The Room' Tour for Autumn 2021 will concentrate on the joy of Nick, an acoustic guitar and songs from all of his albums down the years… it promises to be a happy run of dates skipping across the UK with all the euphoria of a pack of puppies let off the leash for the first time in a long time.
More about Nick Harper at harperspace.com
Pandemic policies. This information will be updated as things change.
Update: April 2022
Face masks: In the Main Hall, on the ground floor, these are recommended at all times, but are optional. Anyone who sits upstairs in the balcony MUST wear a face mask – with NO exceptions (not even those who are exempt). This is to allow people who are clinically vulnerable to have a place to sit where seats are naturally separated, so: (a) to provide a place for people who want to be as distanced as possible from others, and with anyone nearby wearing a mask; (b) as virus particles when airborne are generally heavier than air, this helps to mitigate the risk of transmission from people sitting in the balcony to audience members below.
The windows and doors of the venue will be open, allowing fresh air to be constantly moving through. Although we have heating, this might mean that the ambient temperature is a little cooler than some might like, and audience members should dress accordingly.
Please, if you can, take a Lateral Flow test before coming to the Arts Centre, and if this is positive, don't come. These tests aim to pick up anyone who is infectious at the moment of testing, so please take the test as late as possible on the same day before coming to the Arts Centre. If you test positive, a refund or transfer of your ticket to another event can be arranged, if you let us know before the start of the event, by emailing boxoffice@ashburtonarts.org.uk.