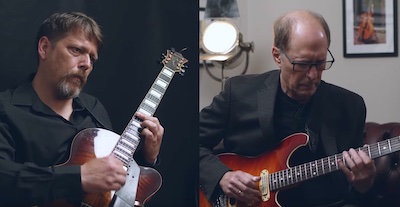 Date/Time
Saturday 14 October 2023
7:30 pm - 10:00 pm
Categories Jazz
Book here now: £15 full price • £10 or £7 if you prefer – please pay what you can*
Lorne Lofsky is an internationally recognized jazz guitarist. Born and raised in Toronto, he has been playing professionally for the last 42 years. He has played/toured or recorded with a who's who of the jazz world, including Oscar Peterson, Ed Bickert, Rob McConnell, Chet Baker, Joey DeFrancesco, Pepper Adams, Ray Brown, Neils Henning Orsted  Pederson, Rosemary Clooney, Kirk MacDonald, Dave Holland, and many other respected members of the international jazz community.
Nigel and Lorne chatted and played together when Lorne was at Ronnie Scott's in August. It's all on 6 YouTube videos – watch part 1 below.
Nigel Price is widely acknowledged as one of the most creative musicians in the business, and one of the most entertaining jazz guitarists you'll see anywhere in the world! Musically, his blend of flowing bebop lines, deep blues sensibility and his mastery of chording continue to delight audiences and fellow musicians alike. He cites early influences as Wes Montgomery, Joe Pass, John McLaughlin and the Mahavishnu Orchestra. His career highlights include a support show for Gladys Knight at The Royal Albert Hall and an appearance on Van Morrison's recent album Keep Me Singing. He's made over 600 appearances at Ronnie Scott's in London. His band won a Parliamentary Jazz Award for 'Best Jazz Ensemble' and a British Jazz Award for 'Best Small Group' and 'Best Guitarist'.
(If the muso chat is boring, jump to here for some gorgeous impromptu playing together.
* See Access, Tickets & Finding Us for more about why there are three ticket prices, plus other useful info about coming to events at Ashburton Arts Centre.